Well, when, when will I finally sleep all night! I will lie down in the evening, and I wake up in the morning, and not in the middle of the night because of crying daughter, and even several times. Laying it, by the way, is also a problem. It seems that we do not get up with her too late, and we walk a lot, and we play, and she started walking in the kindergarten, but she does not want to sleep. Where does she have so much energy? I can not imagine!
Causes of nighttime awakenings

Sleep is different. There are so-called fast sleep and slow sleep. I read that small children sleep most of the night in the phase of REM sleep, which is very fragile and transient.
Have you noticed that often our babies sleep as if superficially? They often roll over from side to side, wander in a dream around the perimeter of the crib. My daughter sleeps just like that. As soon as she does not spin in her dream! I have always been amazed by this. And it is very easy to wake her up. Sometimes a little noise is enough, and everything, eyes open, sleep as if it was not.
Also, I understand why Sabrina is still waking up. I finished breastfeeding just two weeks ago. The time for everything is over. The habit of waking up and eating is still there. She wakes up, I give her a bottle to drink, and she falls asleep again.
How to put the baby

1. If the child is overworked. It happens that in Sabrinke it is plainly clear that she is tired and wants to sleep, she rubs her eyes, is capricious, but she is completely unable to lay her down. In such cases, I send her to a warm shower, give her a drink, and begin to wiggle a little until she falls asleep.
Such situations, by the way, happen when the regime is broken, or in the evening there were too many impressions or events. The body is tired, wants to sleep, and the brain continues to digest the fallen emotions. Therefore, if you do not want to suffer – make sure that our kids are not overworked in the evening.
2. If you wake up in the middle of the night. Now I disaccustom a daughter from night feedings. I want to finally teach her not to wake up in the morning. I try to just pump her up if she is awake and not give anything to eat.
When the night comes without awakening.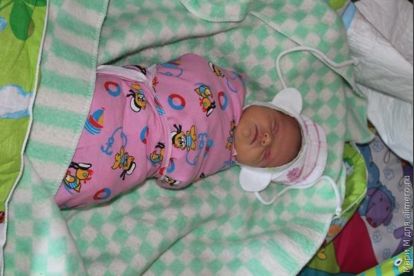 Here you can not guess. After reading on the Internet, I realized that everything depends on the child. Some sleep from birth as adults, and some even wake up often like babies when they are two years old. Eh! I hope all the same, my daughter and I will fall into the average indicators, and by two years our little family's sleep will get better!
Girls, and your kids sleep well? When did your babies sleep all night without waking up?