I started feeding my daughter at about six months. Why? She had an excellent weight gain on full GW, the first tooth had already appeared, and the pediatrician said to give additional food.
Delving into the Internet, I clutched my head – after all, there were a lot of options for introducing complementary foods and tips. It is now I am so smart and I can rant on this topic based on my own experience. But then my eyes just ran away – where should I start, in what doses, cans, or my own?
While I thought my daughter decided everything for me – grabbing a piece of banana from my hands. She really liked the sweet fruit, so the first lure we have fruit. I was very worried because I had read that after sweet fruits children often refuse from less tasty vegetables, cereals and dairy products.
As a result, a few weeks we were exclusively fruit. By the way, for inexperienced mothers note: do not be afraid of changes in the contents of the diaper! And then I, seeing the result of processing a banana, immediately almost crying began to call the pediatrician.
Then it all happened, as I was afraid – my daughter completely refused from vegetable puree. Honestly, I would not eat them myself – it was painfully bland and tasteless were fresh mashed potatoes from squash and potatoes.
In the end, no matter what songs and dances with a spoon, I did not like, the whole daughter lured out the food. Neither bright plates nor toys helped. Having tormented myself for a week, I decided to wait a little with vegetable food.
In order not to deprive my daughter of such tasty fruits, I decided to add cottage cheese to them (I chose curd paste for children from 6 months). By this time my baby was about 7.5 months.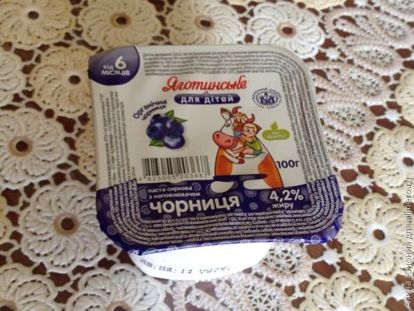 I crushed fruits with a fork or blender and added curd mass to them (50g) – this dessert replaced us with one breastfeeding and became an afternoon snack.
Remembering the experience with vegetables, I decided to try to enter into the diet porridge. The inscriptions on the packaging said that they can be entered from six months (at that time, the daughter was about 9 months).
And again the same rake – although the porridge is sweetish in taste, the daughter refused to eat it. Were tried several variants of cereals. As a result, I won the victory – making the dish more liquid consistency. In this form, the baby still allowed to enter into your diet porridge.
Apparently, the child does not have enough saliva to grind and swallow vegetable puree, I thought. And after one meal was successfully replaced with cereals, I returned to the vegetable lure.
Here I was waiting for success – my daughter ate more liquid mashed potatoes with pleasure. However, I do not exclude that the previous time she was simply not ready for this kind of complementary food, who knows.
Then everything went like clockwork: meat (rabbit, turkey, chicken), eggs, yogurt, compotes, berries. In the year, the daughter fully fed lure, and breastfeeding was no longer necessary.
Patience should be reserved during the introduction of complementary foods. Often, the baby refuses it for reasons completely beyond your control – not being asleep, annoyed, displeased, etc. Introducing new products should be when the child is in a great mood. It is impossible to worry at the same time, because the excitement of the mother immediately goes to the baby.
If the child refuses any product, try to prepare another consistency, or another method of processing. In extreme cases, postpone its introduction to the diet for several weeks.
Do not forget about the extra drink. For example, at first the daughter washed down the feeding with breast milk, and later switched to compotes and water.
Did you have problems with the introduction of complementary foods?