Do you have a good sleep? Before my baby was born, my sleep was very strong. I had colorful dreams all night. Eleven years have passed, I am a mother of two wonderful children. And my dream is like a sentinel guard, dreams have long ceased to dream and the brain is always on the alert – suddenly the baby will cry again.
The reasons for the disturbance of the night in a small child are many. This may be pain (otitis, colic, sore throat), and discomfort (cold, heat, or wet pants). Maybe the air in the room is too dry and the mucous in the baby dries out, making it difficult for him to breathe and he cries. Whatever the reason for crying a child, only gentle parental hugs can calm him.
My daughter could suddenly cry in a dream only in the first year of life. Sleep with us was almost joint. By the expression almost joint, I meant that she did not sleep in the cradle, but on the couch – the little one pushed to our bed. Her cry almost always meant that she had wet her diaper and froze.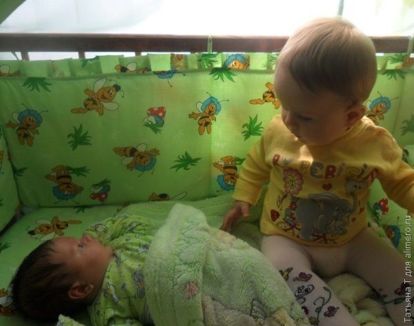 So it happened with us that at night I get up to the children. My husband got up several times, wanting to give me a break, but I still woke up and helped him. Therefore, I decided – let it be my responsibility, and my husband singled out the role of a day nurse.
With my little son, the situation was somewhat different. From birth, I tried to teach him to sleep separately. We set the cradle in the next room, and when the baby fell asleep under my breast, I put it in the crib. So he could sleep until midnight. And then his loud cry lifted the whole family to his feet. His cry meant that he wanted milk and warm mother's embrace.
I noticed that sometimes he starts crying loudly in his sleep after noisy feasts with a group of friends. Especially if he went to bed later than usual. I think he is having disturbing dreams from experienced emotions. Therefore, now we invite guests to an earlier time and see them off a couple of hours before laying the baby.
We also have a ritual of falling asleep – first we have dinner with the whole family, then our son takes water procedures. I put my favorite pajamas on him and put him to the breast (my mother's milk is better than any sleeping pills).
By the way, about pajamas – I pick up cotton men on buttons, with long sleeves and closed socks. In such a pajamas, he does not freeze, even if he throws the blanket on the floor at night.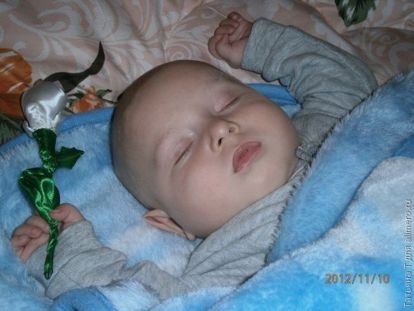 So, once again voiced the possible causes of night crying:
1. Problems with his health. Colic, otitis, sore throat, runny nose, cough, or severe nervous irritability. All these problems require an appeal to the doctor.
2. Discomfort. Cold, heat, stuffiness, wet diapers or hunger. These reasons are easy to identify and eliminate.
3. Fear. Until the year, the baby feels mom and himself as a single organism. If he fell asleep with his mother in his arms, and woke up completely alone, it is not surprising that he was frightened and wept.
4. Fatigue. It is not necessary to arrange active games before going to bed. Run, jump and throw balls better during the day. And in the evening it is better to read a book with a child or playfully lay toys to sleep in their places.
Well, that's probably all … If you know more reasons – write.