Just the other day, I was confronted with symptoms of overheating in the daughter of my friend Marina. They came to visit us. The baby, and she is now a little more than two months old, was wrapped in such a way that only the nose was visible, and this despite the fact that they drove straight to the porch by car.
The child was dressed seven layers of clothing. The baby was all sweaty and red. A friend, seeing my boy in one veil, was very surprised. In general, the purpose of the visit, in addition to the friendly one, was also that I looked at the pimples on the little Angelina's tummy.
On examination, it turned out that these pimples are a real prickly heat. I began to ask Marina about how the girl is dressed at home, what is the temperature in the nursery.
What I heard confirmed all my concerns about the strong and constant overheating of Angelina. We talked about breastfeeding, but more on that next time.
Their air temperature is about 25 degrees. According to Marina, the mother-in-law even puts a blanket under the door of the room so that the cold air does not get into the room. And they dress the girl very warmly. Marina, on the advice of the same mother-in-law, does not water her daughter with water.
Naturally, the child jumped out and the temperature began to rise. The girl is sweating, she does not have enough liquid from milk, dehydration periodically occurs. And then such a hot child is taken out for a walk, and there she grabs icy air.

Symptoms of child overheating
1. Anxiety or vice versa.
2. Increased body temperature
3. Prickly heat, diaper rash
4. The child twists his head a lot. This is a symptom of headache in infants.
5. Redness of the skin.
I gave Marina recommendations, and she herself realized that there was nothing wrong with the child being at home in one light blouse. The air temperature in our bedrooms is no higher than 18. I have never been a child of kutala and I do not mull.
While the children were small, they dressed just as they were wearing, plus another layer of clothing. As soon as the children grew up, then on the contrary, she began to dress them more easily than she dressed herself.
Parents often go to extremes. Someone newborn and bathe in the hole, and someone creates them the real greenhouse conditions.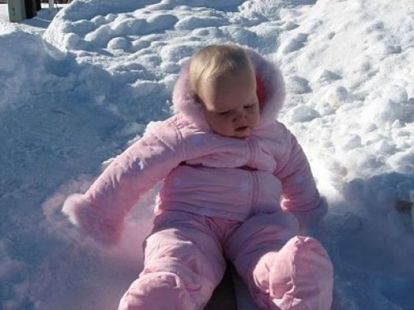 In Finland, for example, in the winter many little kids are wearing one light cap on their heads, and it happens that he is not at all. There otitis sick several times a year is considered the norm. So the extremes are different. The truth is always somewhere in the middle.