My son has been restless since birth. Very much like a lot of attention to his person, including hanging on my hands. (Dad spoiled – I suffer). Why suffer? Yes, because it gives nothing to do, it's banal to drink tea, and even heavy (born rather large).
What is a sling?
Sling – a device for carrying the baby on yourself. They are of different types: sling on the rings, sling-scarf, sling-backpack, May-sling, etc. Carrying a child in it is really convenient if you know how to use it. There are several wearing positions for each sling, so you first need to learn how to handle it and train more often.
I first bought a sling backpack, it seemed to me the most convenient and easy to use. Before that, I looked at a bunch of reviews and videos about all sorts of slings. After 3 months, they gave me a sling on the rings, which I was practically no longer needed.
Oh, and I tortured myself before learning how to carry a child in it in different positions. This sling has a lot of fasteners, carbines, hooks, belts, it's hard to understand right away. Yes, and my son constantly nervous and struggled. But it was worth it. Hands now rested, but the back worked.
The first position I have mastered is a cradle (horizontal). It is suitable for babies from birth. I went for a walk, to the store. And it is convenient for me, and my son is calmer. Only from this position the child quickly grows up.
Next, I learned to plant a child face to myself and from myself. This is suitable for babies from 3-4 months, when they already hold their head. He hangs on you and looks at the world. I use this sling to this day, now mostly behind my back, like a backpack.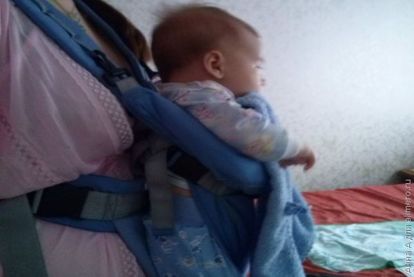 Sling on the rings
I repeat that it was presented to me when the baby was already quite grown up. And this type of sling is mainly intended for babies, in my opinion. Although he also has many provisions, on the Internet you can find various video instructions on how to apply them in practice.
I once tried to put my son there, in a crib, when he was about 4 months old. And the second time – recently planted him on the thigh in this sling, but the child did not sit like that for a long time. In general, he did not like me. And lying in the closet.
Sling Tips
1. Before you buy it, read reviews about each of them on the Internet, watch the video.
2. Think about where you will basically carry the child in it – at home or on the street. The backpack is more suitable for the street, the scarf and on the rings are at home (in the winter you don't walk with them on the street).
3. If you have a small child, then take a sling softer, more flexible, suitable for a sling-scarf, on the rings and a May-sling. For larger fit tighter, like a sling backpack.
Of course, it would be better before you buy a sling, try to put the child in there and try all of its forms, but, unfortunately, there is no such possibility. If you only ask friends. Many, having bought, will try to wind the baby a couple of times according to the instructions, and having become freaked out, they throw the sling to the far shelf. And in vain … A very useful thing!
Do you have a sling? How do you like this device?