I am madly in love with my child, although, I confess, mom, I am quite strict. But I always try to give my child only the best. And, of course, you have to not skimp on the kindergarten. Only now, sometimes just evil is not enough.
The ratio of education with money
When I entered kindergarten, I voluntarily-forcibly paid a certain amount. True, here I will immediately note that I did not give money to anyone. Everything was done legally, via bank transfer. After that, I was presented with reports and payment receipts – a complete list of what was bought for this very money. There are no complaints.
But then … every month I pay for food (here, too, everything is fair – through a bank transfer), plus $ 5 (approximately, I won't specify the exact course). for needs. It used to be less – it was added since September. And now we consider – in the garden, say, ten groups. In each group of 20 children (and this is the minimum – mostly more). And every parent pays money every month.
Where, I wonder, they go when parents are asked to buy even toilet paper for children. I am silent about the lists that are issued to parents at meetings. There and xerox paper (from each of the pack! – Do they eat it there?), And various folders for documents and stuff, etc.
Plus, my latest list makes me nervously shudder. I literally have to buy half of the stationery shop. And what's funny is that all this is needed in the group so that the children study. Interestingly, where did the fact that last year they bought this group before us happened?
Did the children there ate these all sticks for bills, jigsaw puzzles and sets of educational games? Something I hardly believe in it. Plus, parents hinted very subtly that repeating this shopping list would also be good for home use. Not only should the child in the garden comprehend knowledge, but also exercise at home.
Here I have a couple of hundred of each pocket in order to provide children with colored pencils and notebooks. I have absolutely nothing to spend money on.
Not only that – kindergartens by law are government organizations. Respectively. All these institutions are on state support. And I have every right to declare this to the head and refuse to pay. Only here … imagine how they will relate to my child. Submitted? Like this…
Gritting his teeth, I collect the last money and take it to the kindergarten, with fear anticipating what will be in school.
And besides this, you have to actively engage in creativity. They ask me to tie, sew crafts into the garden, some applications. And one thing when I help my child do his homework. But they ask me because it is necessary for the report of educators, and they already spin like squirrels in a wheel. They just left that knit start.
So you have to sit with threads in the evening and create something unimaginable. Once asked to make the sun out of the threads. I thought to tie. But no – it was necessary to inflate the ball, wind it with thread and then pour the case with glue. And after drying this creativity, the ball will burst and gently blow it out of the thread.
There are five such rays here, plus the little body of this sun. And every detail is the size of a ceiling lamp. My darling went broke when I asked for help. We were both in this glue and thread. Four big banks spent. Unfortunately (or fortunately – so that I can never see this horror anymore) the photos have not been preserved.
But the whole kindergarten later became famous for my ladybugs, crocheted. First asked to tie five pieces of different colors. And then, on the second, some kind of exhibition, another one, bigger, and on the same knitted leaf or twig.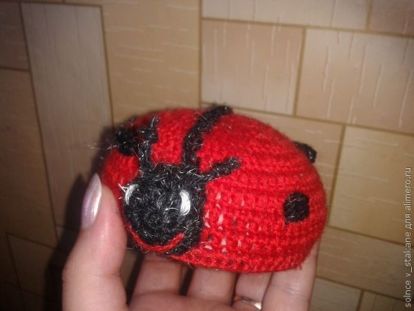 In general, a kindergarten requires not only material support, but also creative. And this is despite the fact that I am not a member of the parent committee and, theoretically, I am not obliged to spend my time and energy on decorating the office or on any exhibitions for show.
See what they ask in our new group.
Interesting, so in every garden? Maybe I was also very lucky, but someone is forced to cut out of egg shells or something else that is more terrible? Tell me =)