Shyness is one of the human reactions to a stressful situation. I have already written quite a lot about fears, so shyness is also fear, but it is special. This fear is directed inside the person so that it is very difficult to extract, redirect, and understand logically.
The second feature of this fear is that the cause of its occurrence is society, and it is often possible to heal it only with the support of society or at least some group of people.
Baby ages and shyness


Talk about shyness in relation to children begin almost from two months of age. When a child in the arms of a mother or other close person suddenly begins to hide from someone unknown to him, they say that the baby is embarrassed. In fact, the child is simply tired or worried about the potential threat next to it.
At this age it is practically impossible to do anything. Is that allow the child a little bit to get used to a disturbing object or person.
At the age of 3-5 years, almost all children experience a period of shyness. Even the most sociable child before that may suddenly begin to experience difficulties in communication. In principle, this is normal. Bad – if not pass.
What if you have a shy child
First of all, do not scold him, but moral support, trying to correctly indicate the omissions of the child, especially at the age of 5-7 years. At this time, the assessment of the parents is most important for the baby and even the smallest complaint can grow into a complex with a snowball.
Secondly, give him a little more time to perform tasks. Even if this task is to come up and say hello, the child can go to the toilet a hundred times, walk around the table and generally make a lot of non-task related actions. You may have to ask for it several times.
In this situation, the child is not trying to piss you off. Simply, he is so afraid of not coping with the task (or your reaction) that he is trying to delay the moment. And the most important thing is that he is completely unaware of this.
Thirdly, be a wall for your child. The sense of security is basic, it's like eating and sleeping. Can we think about something if we are hungry? Can we do something if we drop our legs from fatigue? Not. So here – the child does not assemble a tower of cubes, if he does not feel safe enough. Whatever he does, whatever the outcome of his actions, will succeed or not – we parents must be on the side of our children.
Fourth, dose stress. If your child is embarrassed by a large number of people, throwing him on the embrasure, you only worsen the situation. The most frightening situation is poison and medicine. – The question of dosing. And patience.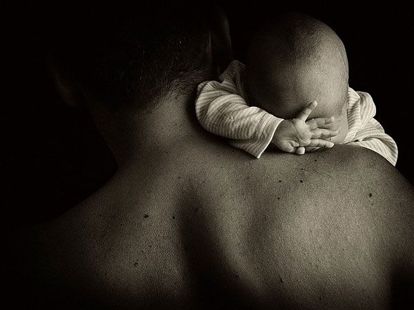 To clarify the last point, let me tell you a little story.
Alas, I have neither hearing nor voice. And my brother is gifted with both. But I always dreamed of singing and playing, and therefore often caused him discomfort with my attempts. Naturally, he just physically could not listen to it.
Over time, I learned to sing to myself and completely stopped singing. She didn't just stop – she forgot how. And when I was alone, I only moved my lips silently.
When I had to sing in the music lessons, I could not do it even in the presence of only my teacher – a person who was very much disposed towards me and sincerely wanted to help.
In the end, a friend in a student hostel helped me overcome this. We loved the same music, in the evenings we included our favorite cassettes and CDs. She sang, I moved my lips. Noticing this, she asked to sing – but I could not. Her throat, as if squeezed, refused to make even a sound.
Then she periodically began to pretend that she forgot a piece of melody or text and asked me to remind you. And in the spring we walked the streets of St. Petersburg and sang. I will never forget you.
Now I still fake and still try not to sing along with people who have a musical ear. But thanks to patience and metered stress, I am no longer afraid.
Try – and your little ones will not be afraid either.