Family – need a rest from the family. That is exactly what the hero of the movie Most Charming and Attractive said. So I needed a rest from family and child. Therefore, I gave my son to kindergarten very early. He was a year and five months old.
Many will say that he is still a crumb. Meanwhile, my opinion is that I did the right thing. Many problems were solved at once. I want to share my experience.
Adaptation
When a child begins to go to kindergarten, the parents think that their child is afraid of everything and is constantly crying. I myself thought so, so on the first day, after taking the child to the garden, I ran there a few hours later. The teacher promised me to send SMS, but did not have time.
And what did I see? My son slept well. And he was well-fed and contented. Then I saw him play with other children many times. He ceased to be afraid of them. For us, it was a whole problem: on the playground he ran away from his peers. Therefore, do not be afraid of adaptation. Children quickly get used to the new environment.
Dinner is served
In fact, the child does not need anything particularly to be able to go to the nursery. My son could not even eat. He was fed in a children's chair. For 6 hours my son eats 3 times: second breakfast (at 11 o'clock), lunch and afternoon tea. Of course, lunch is the most satisfying meal, and for afternoon tea and second breakfast only fruit or yogurt is served.
Diapers also change it. Around care. All that is required of me is to bring the child to the garden in time, give a change of clothes, give milk or juice with you and everything.
The most important thing is that the child really develops. They make dough, draw, look at books, dance, sing. After my son started going to the kindergarten, he began to speak more words, began to eat and drink on his own from a mug.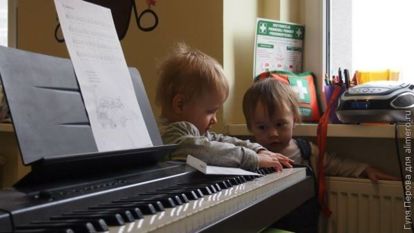 Underwater rocks


Of course, if you decide to send a child to the garden, then you should think about the negative consequences. In the first place – it is a disease. Unfortunately, it does not do without it. My son became sick more often. It is clear that in kindergarten they make every effort to ensure hygiene, but there is an environment for the spread of bacteria. It remains only to strengthen children's immunity. Eat vitamins, for example.
In any case, no matter what decision you take: to give the child to the garden or not – it is worth remembering that communication with other babies is necessary for the child. This is socialization. Without this, further problems are possible: isolation, difficult adaptation in school, excessive shyness, fear of communication.