In our family, the first child was very desirable, so he grew up in a happy and friendly atmosphere. Attention did not deprive him of ever.
After 5 years, I got pregnant again. I was worried that the second child might cause problems with the eldest. After all, taking care of a baby takes a lot of time and effort.
Unexpected conversation


But one day the son came from the kindergarten and asked: Mom, why am I alone? What caused this question I did not know about pregnancy, we did not tell him. Being in slight bewilderment, she said:
– As one?
– Other children have other children (i.e. brothers, sisters). And I'm alone … – he said with a sigh.
– Well, if you so want, you can make a wish for the New Year and in the spring it will come true!
– Well … – and quietly went to my room.
I didn't wait for the New Year to make a wish on my birthday (November 24). Blowing out the candles, at all the guests loudly said: I want a child! The guests were amazed … We didn't put anyone on the notice of pregnancy, the deadline was quite small. The veil of secrecy was ajar.
Time passed, my stomach grew, and my son was expecting a baby. Every week we read together how the fetus develops in the tummy, for a visual aid I bought a book. Yes, and she was in the role of visual aid 🙂 The question of how the baby is born the son did not ask, because he knew that his mother would cut the tummy.
Long awaited moment


The date of delivery was planned, I went to a planned cesarean. Five days in the hospital and the long-awaited moment came … The son first saw his sister at home. For joy, he did not know what to do, all the time he was near her and stroked her head. He brought his toys, painted pictures, rolled the stroller, and even sang songs to soothe when she cried. And in some miraculous way he managed to distract her, calm her down.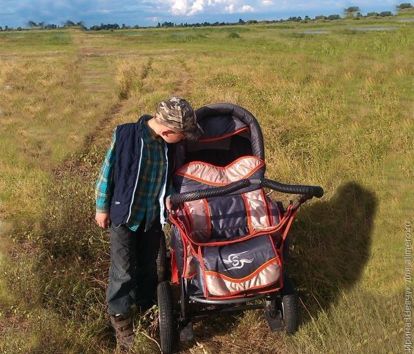 My husband and I were amazed by his concern for my sister. He looks at her with such affection, kisses, hugs and asks to hold her hands on his hands, that my fears about childish jealousy were dispelled in a moment. The most amazing thing is that the daughter responds very positively to it. When they are near you can not worry, hysteria will not.
It is not always so smooth, there are moments when it is simply useless to ask the elder to look after the youngest. Usually in such cases, the son watches cartoons, draws or plays with toys. It feels like he is immersed in his world and all external stimuli are not at all disturbing him, even children's crying. We have to reckon with his desires.
And how do your children get along with each other?