To date, favorite dolls, teddy bears, airplanes, helicopters, horses slowly fade into the background, giving way to toys from modern comic books and animated series.
By the way, such toys of the new generation often have an aggressive focus and an awesome appearance. It is not difficult to guess that playing with such terrible fairy-tale characters, a child can get traumatized.
How many people, so many opinions

One day, talking to my neighbor in the staircase, I learned that among the toys of her child there are a lot of different monsters, vampires and other evil characters.
She stated that the child needed not only positive characters, but also evil ones. Negative heroes help the child throw out a grudge, anger, aggression, which could save a lot of time.
Most often, the child sees in them all his bad character traits and in the future tries to control himself, so as not to be like such a negative character.
Truth be told, scary toys are not such an innovation. They were at different times and were evil mythological and fairy-tale characters.
It turns out that even in Russia for children sculpted clay figurines of wolves, bears, Snake-Gorynych, a brownie, Baba-Yaga and other characters. The main purpose of creating such toy villains was the opportunity to teach children how to overcome their fears.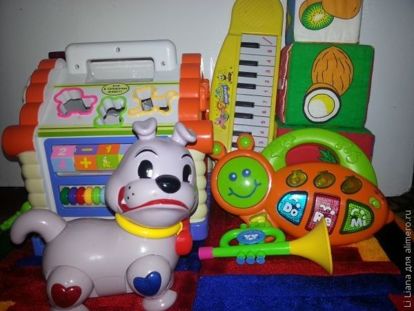 Our scary toy

When the son was born, my father bought him a lot of toys and all sorts of stuff. One of them was a bright robot (stroller suspension) from the company Lamaze. So, when the baby saw this monster, he began to cry.
Such a reaction to a seemingly innocent toy lasted almost until 8 months (I note that I almost immediately hid it far away in the closet, but from time to time, during cleaning, moving, etc., he caught his eye, and immediately started hysterics).
Now my son is a little over a year old, I almost forgot about the toy, but when my husband was looking for something in the closet, he found a robot and gave it to his son. The kid laid him on the floor, calmly looked and left, the more he never touched him, as if it was an empty place. I plan to give it to someone, we are not friends with him.
I believe that such modern scary toys do not have any benefit to our children. Today, looking at some modern characters, it is difficult to determine who they represent: an animal, a bird, a fish or a person.
Speaking of kids who still do not know the exact definition of an animal, a person, you need to understand that a small child can easily form a wrong idea of ​​the world around it. For example, it is difficult to say with certainty who Shrek really are.
My son and I prefer developing music games that make funny sounds, sing and shine. He also likes to tinker with Julia and cars, while riding out saying the BRRRRRBRRRR (like a motor).
And if in the future he wants some kind of transformer, a monster or a robot, of course I will buy it for him, but I myself will only acquire cheerful and positive ones.
Do your kids have scary toys?