Cooking is pretty easy for me. I can not say that I love to stand at the stove, but to try some new recipe is very interesting. I look for them on the Internet, buy cookbooks. So, practically in all recipes they write recommendations: salt and spices to your taste, which has been implanted in us since childhood.
I cook food to my own taste, but my husband always has enough salt and spices, even the latter he would pour less. But with the advent of my son, I wondered how to be now. Even when I was breastfeeding, I refused many spices, which, when released into the milk, could give it a different taste.
Salt in food up to a year


At six months, I began to introduce complementary foods. Long and carefully selected manufacturers of canned food, studied the composition, read reviews. And I stopped at the Gerber brand, the producers of which declared that their diet included only vegetables, fruits and water, and there was neither salt nor sugar.
In general, every body needs salt, which is actively involved in metabolism. We are acutely aware of its lack and are dragging us to salt water, and when there is an excess after a salted fish or cucumbers, we immediately drink huge amounts of water.
Salt is not bad for a healthy body. But its excess can lead to disruption of the kidneys, cardiovascular system and metabolism.
Children under 6 months know only the taste of mother's milk or a mixture. With the concept of food, and the more salty they are not familiar. So, because of the immaturity of the systems in the body, I believe that it is not necessary to acquaint the child with salt and spices up to a year. Since you can salt to your taste, and as a result in the children's body there will be an excess of salt, with which it will be very difficult for the kidneys to cope.
Salt in the diet in 1-3 years
After a year I began to add salt to the food. But for my taste, it remained the same unsalted food. I will cite for comparison. A child older than 1 year can consume no more than 0.5 g of salt per meal, at the same time an adult's rate is 5 g per day.
As the child grows up, you can calculate his rate. It is believed that for every 10 kilograms of weight is 0.5 g of salt per day.


Spices and spices in the diet of a child under 3 years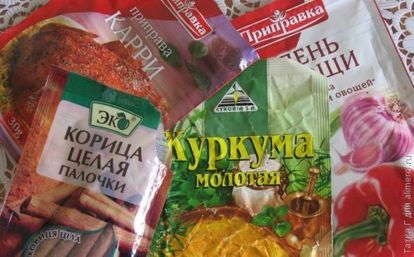 We add spices to food in order to give it a certain aroma and make the taste more saturated. From this, our appetite awakens and metabolism accelerates. As a rule, all spices are of vegetable origin.
It is not known what spices can cause diathesis in a child. If the child is prone to allergic manifestations, it is better to exclude their use.
I used only dill, onion, garlic and only thermally treated ones in the diet of a child under 1 year old.
Now we use:
1) Onions, garlic, parsley and dill.
2) White pepper, turmeric and curry (if curry, then only take the seasoning without any salt).
3) Cinnamon, vanilla, ginger, saffron, cloves – in minimal quantities when cooking desserts.
From our grandmothers you can often hear that we are not mothers, but stepmothers and feed children with absolutely tasteless food. Taste – he comes from childhood. So why are we then surprised when meeting with the tastes of our future husbands? We complain and resent when they eat food that is well-seasoned with mayonnaise or various sauces and is very rich in salt and spices. Think about it when you feed your kids chips, crackers or give Coca-Cola.