When a baby appears in the house, any mother tries to provide him with a safe environment and protect him from the harmful and unnecessary influence of household chemicals. Therefore, it is so important to choose the safest baby laundry detergent, especially for babies of the first months of life.
In this topic I will talk about my experience in using baby washing powder.
Concentrated Laundry Detergent
DOMAL BABY FASHION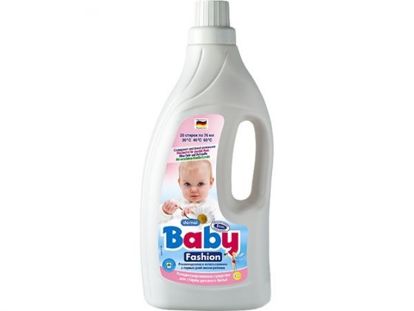 At the moment, this is the best (but not perfect) of all the tools that I used. The daughter is predisposed to the manifestation of allergic reactions, so from birth until the year we decided not to save and all the children's clothes were washed only with Domal.
Now, from time to time, I also use it, plus I wash it with those things that I plan to sell (for example, winter overalls), since after washing things look almost like new.
The powder does not contain dyes and flavors and is recommended for use from the first days of a child's life. Suitable for both machine and hand wash.
Composition: 5-15% anionic surfactant, non-ionic surfactant, soap, less than 5% phosphonates, enzymes, preservatives, chamomile extract.
Pros:
– well and carefully washes things
– does not cause allergic reactions (personally, we did not have them)
– has a neutral smell (things after it do not smell)
– According to the manufacturer, safe for babies skin.
Minuses:
– quite expensive (750 ml packaging costs around 300 rubles)
– does not wash all types of pollution (stains from juice, berries, etc., do not wash)
– The composition, as you can see, is not perfect. Here and surfactants (and, in the exceeded percentage) and phosphonates. But, probably, absolutely safe laundry detergents do not exist in nature.
Laundry detergent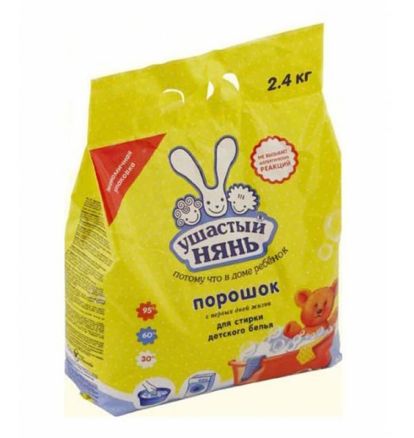 One of the most popular and economical options. In general, I recently came across information that Big-Eared Nyan has a leading position in terms of breakage and disabling even new washing machines.
Whether it is in fact or a lie of competitors, I did not dare to check with my own example and blacklist this powder. And for hand washing I prefer ordinary laundry soap.
Pros:
– tempting low price (43 rubles)
– not bad washes things
– as the manufacturer claims, the powder is safe and does not cause allergic reactions, but …
Minuses:
– powder composition. The manufacturer is cunning and does not indicate the full composition on the front side of the package, getting off with common phrases. But if you carefully examine the entire composition, then there will be found a lot of all bad things: sulfates, phosphates, surfactants, silicates, carbonates, optical brighteners, oxygen bleach, flavors … Horror!
In general, the amount of harmful components is off the scale. It is possible that there are more of them than in ordinary powder, and why then is the children's inscription?
Conclusion

In fact, the choice of safe household chemicals and children's powders is a serious problem. Reviews on the Internet can hardly give any objective picture, since the lion's share of them is paid reviews of competing brands.
Personally, my opinion, if you really use laundry detergents, you still need to carefully study the packaging and read the full composition of the product, choosing the most gentle. And to console ourselves with the fact that our children will have to live in this imperfect world stuffed with all sorts of harmful substances, and here we are powerless to do anything.
Or completely abandon the use of household chemicals and somehow solve the problem of washing children's clothes. For example, one of my friends orders in the online stores environmentally friendly household chemicals and some soap balls from India and erase things with them.
I personally look at the Ecover brand until I have tried it, so I can't say anything yet. What powders do you use?