I always wondered – why do some people prefer to go on vacation without their children? Do kids do not get tired for the year just as we adults do, and do they not deserve a rest under palm trees or a walk around the old Europe?
Small shoots

I have two children – the eldest 10 years old, the youngest – a year old. And never for all the time of motherhood did I have a desire to leave them for a week or two. It's always a pleasure to run away for a day shopping or with girlfriends in a bath for the evening.
I would even say that it is necessary to regularly do this in order not to turn into a shaggy monster, always dissatisfied with its life.
But vacation? After all, for a working mom, this is practically the only opportunity to spend enough time with her baby!
Our trips

I always carry my children with me. The first time we went on vacation, when my daughter was a year and a half. We went by car, we had to overcome about 2000 km. The car was without any signs of comfort – the domestic five, but we were young, optimistic and the trip was a success.
In the future, we tried almost all types of transport, and I cannot say that one of them is absolutely not suitable for families with children.
After the birth of the youngest daughter, not much time passed, but she had already managed to go on her first trip. I hope that in the future we will not stay at home.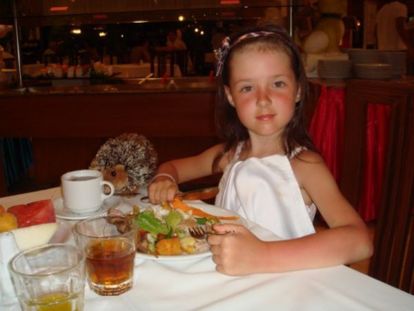 Another opinion
One of my friend holds the opposite point of view. The first time she went to rest when her child was four months old. She was gone only a week, and the child almost did not notice her absence.
It must be said that the decision to leave without a child was not easy for her – she repeatedly shared her feelings about this, worried if she could remain a good mother after separation from her child. But tiredness and the desire to rest took over, and she decided to go on a trip.
It is interesting that her parents, to whom she left the baby, held opposite points of view: the mother was for rest, the father was totally against it.
But a start was made, and over the next three years without a child she left more often than with him.
Another friend of mine, a traveler, is a mother of two children. The eldest son is 5 years old, the youngest is one and a half. When the question arises, which of the children to take with them (and both are not ready to take, since she goes without her husband and is afraid not to cope with two at once), she prefers the older one — it's easier in everyday life, and the younger one stays at home easier, because he does not understand all the hurtfulness of what is happening.
Little betrayal
That is how, in my heart, I regard the rest on which we set off without our children. After all, for the little man the most important thing is to be close to the mother, to feel her constant presence, care and warmth. What do you think? Which position is closer to you?