I sincerely sympathize with those people who do not like animals. As for me, there is no greater joy and peace in the world than when a warm fluffy lump purrs into your ear. That kind of soft rumbling happiness. And I try to inculcate this love from my very childhood to my son.
I tend to believe that there should be a pet in the house. Yes, of course, allergies – is a separate conversation. There are no questions here, but … even for them there are pets that can deliver maximum joy and minimum problems. For example, such a pretty little snail. I do not suffer from allergies, but I keep Akhatina at home. She is charming. And her name is Hermione (and don't ask why).
Very many parents with the birth of a child refuse to pets. A living example is my godfather. Four months ago, she became the mother of a charming girl. So, in advance, it was decided to give the cat a good friend who just look after the animals. The cat is very beautiful, big and already quite old – snow-white, with long fluffy fur.
I note that there are no allergies in the family of my girlfriend, and never have been. They gave the cat simply because leaped in a terrible and suddenly. Sorry for the animal, it is accustomed to the owners, having lived all his feline life with them side by side in the same apartment.
I have never suffered such fears. Cats I really, really like. I never forbade a fluffy pussy to sniff, to meet a small screaming pink lump that had just been brought from the maternity hospital. The cat could sniff, look, maybe even lick on the nose. And no one suffered from it.
The only security measure – the cat did not have access to the crib.
Then travel, constant change of apartments.
Now I have a cat too. My faithful brought me, for which I am terribly grateful to him. At first, charming black insolence was not at all given to my hands, constantly biting and ignoring me in every way. Now she is so accustomed to me that she listens and reaches out to me more than to the owner (that is, my young man).
My son is also delighted with the cat. And I am very glad that I have taught him to communicate with animals since birth. He never has the desire to pull the cat by the tail, pull out his mustache or something worse.
First of all, the child asks whether it is possible to stroke the kisu, and only then gently, as if touching the crystal figurine, gently holds it backwards. The cat is delighted. She, by the way, also understands that no one will hurt her, and allows herself to be stroked, does not run away and does not bite.
The same thing happens with street animals. The son reacts absolutely calmly, without rushing in pursuit of the unhappy cat, in order to smooth him down to a pulp or to see where his paws grow from.
And separately about communicating with dogs. First of all, I never scared a child like saying never touch a dog – she will bite your head off.
It's just that my son had a conversation that it's impossible to iron dogs on the street, that the dog could be someone's, and you shouldn't drag her home. And you can not touch the big dogs – they can really be angry and very scare.
The child heeded. Now on the street, he simply pays attention to the passing animal. If the dog is at arm's length and does not inspire fear to the son (judging by his behavior, scary dogs are those that reach his shoulder), he asks me first for permission, and only after my consent can lightly pet the dog.
If the dog, according to my offspring, is big, the son simply points at it and hides behind my back or tries to grab the arm and go around in a wide arc. But I do not see any fear. That he simply became a habit of behavior.
As for me, it is much better than a deranged child will rush around the yard with a stick, as if he was just released into the world, and he had never seen this dog or cat in his life.
These are my personal beliefs. I just informed their son and am glad that he holds my opinion. And, of course, do not forget about the animals themselves. That dogs, that cats are different.
My cat, for example, never imposed itself. They do not want to iron her and play with her – she is only better. But my cat's grandmother is damned terribly. He sees that they do not pay attention to her – he can lie down right in front of his son and begin to select his toys so that he can stroke it or play.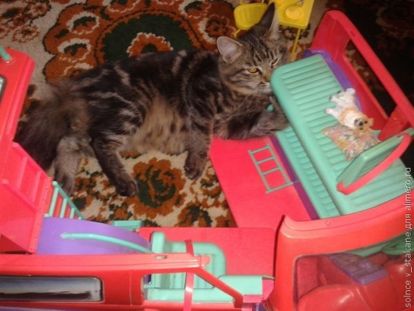 But these are cats – no problems from them. But what about the dogs … I do not like to keep a dog in an apartment. Animal no room, plus the smell. Moreover, you never know what will knock her head – yesterday rolled on her back, and today she will take a bite off her hand. In short, I do not like dogs. Although I read somewhere that a smart dog, like a horse (and horses are for me a holy magical animal, much smarter than some people), will never attack a child.
In general, a double-edged sword. But that is not the point. I believe that if a child and his parents are not allergic, a pet must be started without fail. Communicating with our younger brothers, children become softer, more tolerant, more peaceful. They learn to love …