In the maternity hospital I was lying with my daughter in the room of joint residence. I have not regretted this much, although many have dissuaded me. I am glad that I began to meet her from the first days of her life.
What are the reflexes

At school I was very fond of biology, so I remember very well that all human reflexes are divided into conditioned and unconditioned. Conditional are reflexes acquired in the process of life, and unconditioned ones are given to us from birth.
Just born baby – like a clean sheet. He still does not know how to do absolutely nothing, but nature, for his safety and survival, awarded him with unconditional reflexes.
Sucking reflex

The first reflex that I saw with my daughter is sucking. When she was washed, wrapped in a blanket, and placed in my chest, she began to suckle. And despite the fact that she is already 11 months old, everything that comes into her hands is sent to her mouth (fingers, fist, nipple, dog tail))))
Search reflex

While we were together in the ward, I noticed that as soon as I touched the daughter's lips with my finger, chest, or just washing her face, she would open her mouth and start looking for my chest. This reflex persisted for approximately 4 months.
Protective reflex

When I first put my daughter on my tummy, I noticed that she automatically turns her head to the side. This is provided by nature to ensure that the baby received enough air. And he, simply, did not choke, buried his face in a mattress.
Crawling reflex

Thanks to this reflex, the children subsequently begin to crawl, and then walk. When I laid Sabrina on my tummy, I deliberately placed my palm under her feet, and she automatically began to push off from her. Thus, by 4 months she learned to crawl.
Reference reflex

This reflex is conceived by nature, so that our children learn to walk. If you put the newborn in a vertical position (of course holding), then it automatically straightens the legs, and if you tilt forward, the baby makes an attempt to cross. This is an automatic walking reflex.
When I was still pregnant, I read that if this reflex does not work, and the legs are tightened, then the child is most likely to have a raised tone and he will need to do a special massage.
Grasp reflex

Newborns grab everything that falls into their hands. I remember that I played like this with my daughter: she put her fingers up to her, she clutched at them, and I gradually lifted up. At first, she was hanging quite a bit, but after constant workouts, I began to lift her out of the bed this way.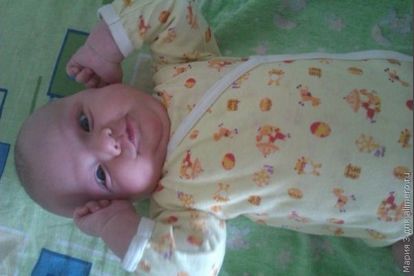 Here such nature has rewarded our children with such valuable reflexes. I did not name everything, but only the most basic ones.
What other reflexes do you know?