The absence of quarrels in the relationship between husband and wife, in my opinion, is possible only in the absence of communication or complete indifference to each other. My husband and I are no different and quarrels between us occur regularly.
Everybody knows about their unfavorable reflection on a small child. What to do in this case?
We are all in a bad mood, experiencing negative emotions in relation to a partner or facing a different opinion from ours. To accumulate everything in oneself is fraught with the fact that once accumulated it will burst out. Therefore, it is possible and even necessary to enter into conflict.
After a quarrel with a child, it is important to apologize to each other and make peace, setting an example of how to get out of the conflict. To be honest, sometimes this is easier said than done. After all, in order to maintain a clear mind during an argument, one should not get too involved in the situation and maintain peace of mind.
My methods, how to keep peace of mind, if you quarrel with a child:
1. I and my husband are less likely to come into conflict if I understand that he should not do everything at all as I would like. That he can do something in his own way or even have other plans for the object of my irritation.
This behavior of parents, in my opinion, teaches the child to adapt to different styles of people's behavior and to be more adapted in the adult world.
2. In order not to cause a negative and opposition in response, I express my feelings in I-messages. That is, I begin a sentence with the words: I would like. or I feel. In no case without using the reproach phrases that summarize the particular case: Why do you always …, you never …
3. During a quarrel, I use a neutral language, avoiding insulting or humiliating my opponent. Bad words tend to be remembered by children very quickly and then repeated many times by them.
4. I adhere to the topic regarding the problem that has arisen, and not past cases. I ask my husband what his suggestions are for solving this problem.
5. To hear the opinion of a partner, there is such a wonderful technique: before starting to speak out in response, repeat the last sentence of the opponent.
It is considered that we do not hear most of the text of the predecessor, thinking through our future answer in my head. Thanks to this technique, the probability of hearing the words of your opponent grows significantly.
6. I try to speak calmly and confidently. Without going to high tones and screams.
My daughter is not used to raised tones and is very scared if I start screaming. So I have to constantly monitor this item.
7. For myself, I decided that blaming a husband is unproductive. And I always try to concentrate only on the problem.
In my opinion, this behavior will help the child understand the importance of peaceful, constructive negotiations and not succumb to the power of useless mutual recriminations.
8. I never threaten to waste. I do not promise to do something that I can hardly do, such as: leaving my husband, divorce, silence, stopping cooking, etc. Not only that, if the promised sanctions are not implemented, I will look like an empty windshield. So also the baby, in his tender age, takes these words literally.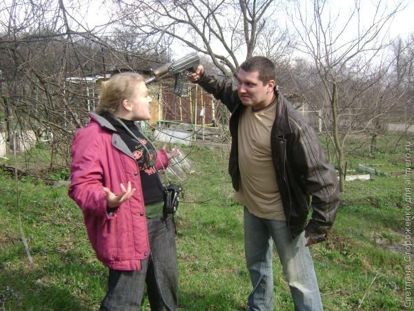 9. I do not hide unresolved conflicts in myself. I heard a lot about the fact that children often feel stress in parental relationships, so I try to resolve the situation that concerns me as soon as possible.
In addition, for intelligent children, a sense of their security is born from the knowledge that parents will be able to solve all problems together.
I must say at once that in order to adhere to all punctures, practice is needed – and sometimes this is not always possible. But worth a try.
Do you know any other methods, how to quarrel with a child?