My husband has a seven-year nephew. The boy is good in all respects, but completely unable to lose. I will tell you on the example of board games, but this concerns not only this aspect.
What are some tricks he may invent to get the desired victory! You would only have seen: he peeps and juggles chips (or cards, or figures), and imperceptibly makes moves instead of you. If you don't win, he starts moaning what he says is small, so the opponent must succumb. As a rule, whining takes the upper hand and the baby goes to the games winner.
Found spit on a stone

All children love me, and I do not exaggerate at all. Do you know why? Because I am honest with them and do not distinguish between communication with children and adults, and if I don't like something in a relationship with a person (of any age), I'm talking about it. For example, I don't like it when they cheat me. Even if it makes a seven year old boy. Strange me, huh? Maybe. But listen further.
So in one of the family meetings, playing with my nephew in checkers, I did not allow him to cheat. Of course, the variant with whining was immediately used, and what a surprise the child was when he did not work.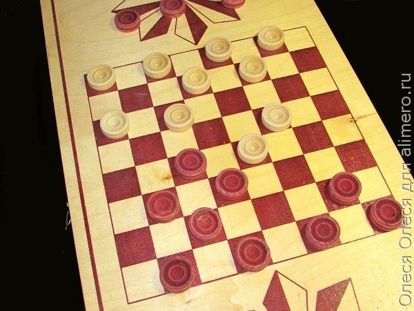 Why did I do this?

I am absolutely sure that constant dishonest victories do not benefit the child.
And I have a few reasons.
First, the child does not learn to cope with difficulties and withstand defeat. Do you think seven years for this small age? By no means, the basis of character is laid in early childhood – what they have invested, then they will succeed. My opinion – to learn to cope with difficulties as early as possible. Psychologists believe that it is time to 4 years, and I would have already started with 3.
Secondly, an easy victory will not teach the child perseverance, that in order to get a result you need to work sometime, think sometime, but always make an effort.
Thirdly, when at school, at the institute, at work, the child will encounter the same harmful aunt as I, neither persuasion, nor tears, nor requests will definitely help him, and the rate in any case will be higher than the victory in the board game .
But understand correctly, I do not at all urge to win all the time and show superiority over the little man. In some cases, of course, you can also succumb, because a permanent defeat will not add anything good to the character of the child either. I for measure in everything.
What is the result?

After several games lost by my nephew, I made a tactical mistake in the game. And you know what happened? The child won, absolutely honestly, fairly and without any giveaways! What happened next? For the rest of the evening, he walked proud, contented and told everyone that he had won even Olesya. Even! Can you imagine!
And this was his most real victory.
What do you think about giveaways?