Most recently, our baby is one year old: he is growing, developing and actively learning about the world around him. And before me more and more often the question arises: how to entertain a child? He has enough toys, but they bother him pretty quickly.
And I want to find something that can take the attention of his son and not get tired of him after one or two days of play. And just recently, when I was shopping at a children's goods store, my eyes fell on the boxes of clay. Maybe soon it is time to introduce him and one year old son?
I myself remember how as a child modeling clay modeling gave me great pleasure. In addition, this is a very useful exercise. It helps to develop children's creative skills and fantasy. Plasticine makes them assiduous and neat, trains their fingers, developing fine motor skills.
With it, you can introduce a child with flowers, shapes, names of animals, plants. In general, the possibilities of games with plasticine are almost endless, and it inspired me a lot.

When to start?
After asking around familiar moms and studying the opinions of specialists, I, to my surprise, learned that it was not too early to acquaint the child with modeling clay from the second year of life. The main thing is to follow the safety rules (that is, do not leave the baby unattended) and choose a game that suits him by age.
First you need to give your child the opportunity to simply hold the clay in their hands, mash it. Then show how you can pinch off small pieces from a large piece.
Over time, the child will be able to pinch the clay himself and learn how to sculpt the main blanks from it – balls, tortillas and sausages. The next step is the creation of more complex figures and compositions of them, which will be spread over the children of 3-4 years.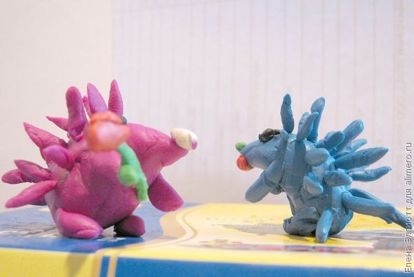 The first classes should be short – 5-10 minutes. And it is necessary to praise the child, even if at first he does not get everything. Then he will be interested in the process and will want to play again and again.

How to choose clay?
The store is now a very large selection of clay. For example, it is of various softness / hardness. For younger children, soft clay will be suitable, as it will be easier to work with it, because their fingers are not strong enough. And older children, for complex handicrafts and the subsequent development of fine motor skills, need more solid clay.
Another invention is edible clay and various masses for modeling, which can be eaten. Manufacturers even specifically make them fragrant, which pushes the child even more to try them. But at the same time with a very unpleasant taste.
But in my opinion, this is already too much, and I definitely will not buy such clay for my child. First, he should know that this is material for games and sculpting, not food. And secondly, I will still be with him during the process and will not allow him to take clay in his mouth.
In any case, the clay should be non-toxic and safe. This can be determined by smell: it must be neutral and in no way smell of rubber or gasoline. The box should be free of greasy traces, as they are an indicator of low-quality raw materials. The consistency of clay should be uniform, and it should not stick to hands.

What games can be played using plasticine?
Every mother can easily come up with a lot of games for her child. Of course, given his age and modeling skills. Here are examples of simple plasticine games that I decided to adopt. Some of them can be played from the second year of a child's life.
1. You need to take a piece of thick paper or cardboard, draw a blank on them (for example, wood) and glue it with transparent tape on top. From plasticine to sculpt apples and hang them with a child on a tree. Covering with scotch tape will make this workpiece reusable, since after the end of the game the apples can simply be removed from the surface.
In exactly the same way, you can attach points on the wings of a ladybug, sculpt the spots on the mushroom cap, etc. If you beat all this as a fairy tale, then the child will be more interesting doubly.
2. Plasticine can draw. This will help you learn colors and how they blend together (just like paint). For a basis, you can take either a coloring, or draw a simple picture yourself. The child will paint it, making clay balls and smearing them with fingers, and you can call him color each time.
3. In the process of modeling, you can guess riddles to the child, giving gradually hints. Let him watch and guess what you sculpt. It can be berries, fruits, vegetables, animals.
4. You can ask the child to feed the animals: first blind the hare, the dog, the chicken, the cat. And then for everyone to blind what he likes to eat: a carrot, a bone, a grain, a fish.
5. Instead of a child, you can retell a fairy tale by blinding characters and asking him to speak for some of them.
What do you think, at what age can you acquaint a child with modeling from clay? What games do your children love to play the most?