When my daughter was born, we started using diapers. I can not imagine how our mothers used to do without them – the constant washing of gauze diapers is very tiring, and they do not always protect.
I know that for sure, because for some time I used gauze diapers on the advice of our grandmother. Constantly raw sliders, irritation on the baby's ass from coarse cloth – there is little pleasure and comfort in general. But we didn't immediately find our ideal diapers either.
How we chose diapers
I have my first child, so I was a complete layman – I didn't know which diapers are better. We began to try everything. In addition, I listened to the recommendations of other young moms.
I do not know about you, but when I was discharged from the maternity hospital, I was given a whole bag with different types of diapers, so I had the opportunity to see some options.
By the way, as I was convinced personally – the price of diapers is not the determining factor. Also, I did not see much difference between diapers for girls and boys.
What was the result of the experiments? Some immediately appeared allergic, others did not save us from going babies to the toilet, while others constantly moved out.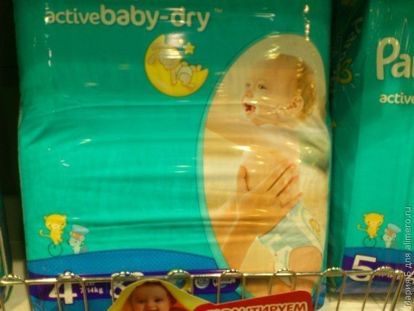 Only after a month of constant experimentation, we decided to stop at the Pampers brand, which comes in green packages. It seemed to me that they protect us quite reliably, the skin of the daughter does not react with reddening on them, and they sit quite well.
Therefore, today I buy only them for her and we are quite satisfied. Of course, I'll make a reservation right away – we don't walk constantly in diapers. Very often, my daughter plays without them so that her ass can relax and breathe. But for the night or for a walk, diapers are obligatory for us.
Experience in using panty diapers
I am an innovative mom, so in six of my daughter's months I decided to try diaper panties. My baby has become more active, adult, and I thought that we had already grown out of diapers. My next trip to the store ended with the purchase of panties, and we began to test.
I will say right away, the expected result was not. We put them on quite hard, despite the fact that I bought the size according to our weight.
The most unpleasant surprise was waiting for us, when the child went off in a big way – it turned out to be practically impossible to remove them without blotting out the legs. I thought that with experience it would be better, but every time we got dirty from head to toe. We barely used one small package of such panties, and I decided to never buy them again. They categorically did not fit us.
Today we have a year now and we continue to use simple diapers. With panties, we did not have a relationship, to my regret and surprise. Therefore, my advice to you moms – try different options, look for your ideal, and the baby will thank you for it!