Our road to the pot was long, it began even when the child was six months old, and ended only by two years.
Under the influence of moms and grandmothers, acquaintances who have planted babies since birth, and then they regularly write to the pot, try to keep up with them.
So I first succumbed to this trend. After all, my mother said that I went to the pot steadily, when I was not even a year old. The mother-in-law told similar things about her two boys.
When my daughter was six months old, and she began to sit well, we bought our first pot. The easiest, without music and other not very necessary functions. I tried to put my daughter on the pot in time, but there was no result.
This happened in the summer, so I decided to get serious about pottery business and left the diapers just for sleep and a walk. As a result, we have described almost all of the house and one or two hits in the pot. I'm rather tired of this, because the little one didn't want to have anything to do with the pot at all.
After reading many articles, real stories and the opinion of one very respected pediatrician doctor, I decided to postpone it for a year. A year after the end of spring, my daughter was already a year and a half, I began to try again. The child has become more intelligent, forgot our previous attempts. At first there were a lot of blunders, but she already knew what to write in the pot. Sometimes it was very upset that she did not have time to reach the pot.
We only had a diaper for sleep and a walk, at home during the day almost all the trips to the toilet began to turn into the pot. In the year and eight months we were admitted to the younger group of the nursery. The teacher said that there are no diapers at all. I had to refuse them altogether.
And everything was not so scary. Yes, it happened, she wrote in her sleep during the day or at night, she changed four or even five pairs of underwear and tights in the kindergarten. It was necessary to wash things often, but this period passed quickly. My daughter got used to kindergarten, misses were the exception rather than the rule.
My findings on schooling a child
You should not plant a baby from birth if you do not want to run every fifteen minutes to the sink. When he grows up, there will be no guarantee that he will immediately start doing things right in the pot. Only at that moment when the baby has an awareness of what he wants to write or crap, when he can somehow inform you about it, only then attempts to accustom himself to the pot can be crowned with success.
Do not scold the kid for misses, so that he does not have negative associations with the pot. Always praise the child, say in a calm tone that the next time you need to pee on the pot. If you see that the baby still does not work, perhaps it is better to forget about the pot for a couple of months and not to torment anyone.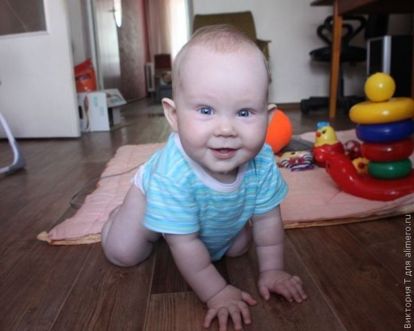 And what time did your kids start going to the pot without a slip?