When my son was 4.5 months old, my husband's parents decided to take us to the sea, together it was boring, and with us it seemed more fun. We went for 4 days.
Difficulties trip. Road
We went there by car with air conditioning. Our journey lasted about three hours. Not to say that it was very easy, but not to say that it was very hard. The child managed to sleep once or twice, lying in my arms, eating a couple of times. In general, the road was moved normally. Already when they were approaching the place, the child became nervous due to the fact that he was just tired of the same situation for three hours.
Settling and adaptation
We drove into a small room, also with air conditioning in the shady part of the building. To the sea was filed by hand. Literally 5 minutes walk. But since it was the most dangerous time – lunch, we, naturally, decided to go to the sea in the evening. And while sitting in the room, playing, eating. The child behaved calmly enough. Although I put him in for a long time, because of the unusual situation and the lack of a cot, he slept only in my arms.
The baby could not stand the heat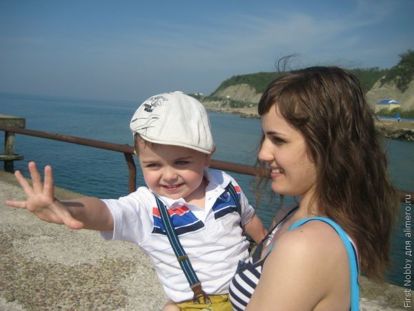 In the evening, at the beginning of the sixth, we went to the beach, but the sea was cold and we decided to settle down at the pool. I sat there with the baby, not letting him out of my hands, and everyone else frolicked, bathed and sunbathed. At some point, my son began to get nervous, I thought that it was time to feed him, covered myself with a scarf, but he did not take the chest, he was dodging and crying. I could not calm him down.
Then my husband came running, snatched the child from me – he said – give it to mom, she will calm him down. Then I felt somehow offended, because why would he calm down at someone if he could not calm down at her mother's breast. Of course, the baby started only shouting harder, then his husband tried to calm him down – no way. Then it dawned on me …
I pulled it out of my mother-in-law's hands, and rushed straight into what I was, barefoot to our house. And the child cried and cried. He just overheated. It is not noticeable to us adults, our body regulates temperature itself. And in young children, thermoregulation is not yet established, they can not sweat in order to cool. In general, I rushed like a torpedo, and behind me, as it turned out, my mother-in-law ran.
When we entered the house, I saw that an ambulance was worth it. Already in the room where the baby immediately began to calm down, as it was cool there, he finally took the breast, ate and quietly fell asleep. My mother-in-law stood with round frightened eyes, running around us and blowing away non-existent specks of dust from us.
And here I had a glimpse that when my husband sees an ambulance at the house when he returns, he becomes nervous. Just then he came in, all so pleased that he did not see white bathrobes in our room. In general, we decided that the child almost had a heat stroke. After that, everything was fine.
It was good, because I went out with my child only early in the morning and for an hour in the evening, after 7, and at 8-9 he was already falling asleep for the night. And everyone else went to the sea when they wanted, went to the cafes, sunbathed and swam. And I did not understand why we were taken there. Just for the masses, or for half an hour a day to tickle a child. In general, it was not a rest, I did not see any benefit for myself or for the child on this trip.
I summarize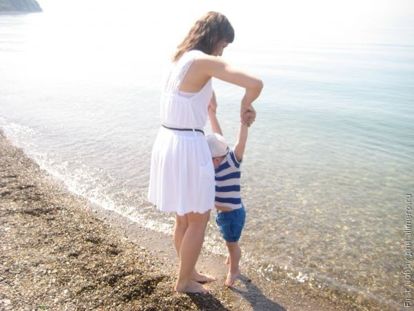 My husband and I are going to go to the sea in September, when the child grows up, when the sun is not so hot, when the sea is already quite warm, and when the main influx of holidaymakers and children subsides, and just the prices will go down for accommodation and meals on the coast. Every day I think about how we will frolic on the beach, relax and swim. Just go this time yourself, your family, the three of us.