Probably, the first bathing of the baby was one of the most powerful and memorable impressions for me, after birth, of course. I was looking forward to this event, but at the same time I was incredibly worried. Like any young and inexperienced mom, I often doubted my abilities. But today, when my daughter is already a year old, I can say with confidence that we are still doing very well with our duties as a mother and daughter.
I want to share with everyone our first bathing experience and say that everything is not so scary. You just need to prepare a little!
Preparation for bathing
Our patronage nurse said that you can bathe the baby ten days after birth. But it is very important to pay attention to the baby's umbilical cord – it should already have healed by this time.
In ten days I had already spent enough time with my daughter, so I learned how to hold her properly. But all the same, I had a fear of the first bathing – I didn't know how the baby would react to water procedures, how I would manage with her in the bathroom. So for the first time, I asked my mother to help me.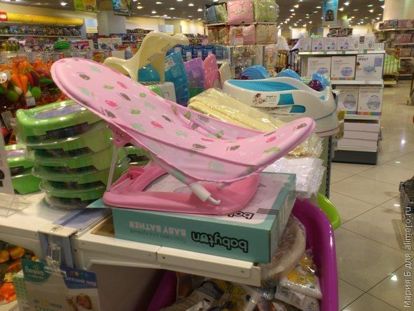 For swimming, I bought a baby bath, a slide, a soft towel, a terry mitten, a chamomile and a water thermometer. We decided to bathe our daughter in the late afternoon, before feeding, so that we could immediately put to bed. Considering that the navels still did not heal to the end, we decided to boil some water and make a camomile infusion. Then I heated the bathroom, closed all the windows and doors so that there was no draft.
I placed all the bath accessories on a comfortable surface in the bathroom so that everything was at our fingertips and there was no need to make unnecessary movements. In the nursery on the changing table, clean clothes for the baby, diapers and tools for navel treatment were ready.
When everything was ready – the bath was heated, the temperature of the water showed exactly 37 degrees – my mother and I started the ritual. We stripped her daughter and carried her to the bathroom. I said that I would do everything myself, but under clear guidance.
So, at first, I slightly lowered the legs of my daughter in a little water so that she got used to it. The baby did not show any irritation, and I lowered her lower. Then she put it on the slide, and we saw the blissful face of the child, which we certainly enjoyed.
By the way, I must say that at first the slide helped me a lot – with it I felt more confident and not afraid that I would drop the child. I carefully washed my daughter with a wet terry cloth mitten, then took it out of the water and put it on a prepared towel. By the way, children do not need to wipe dry, they just enough to get wet. Then we went to the changing table, processed green-colored navels and put on clean clothes for my daughter.
In fact, the whole process of bathing took us no more than ten minutes, along with undressing and dressing. But these minutes will forever remain in my memory. Everything turned out to be simpler than I thought, and today my baby and I love to play around in the bathroom with foam, bubbles and toys. And I can say with confidence that the first swimming is not stress at all, but real joy, the main thing is to prepare and plan everything in advance!