Terrible and incomprehensible name, is not it? I was also very scared when I first heard this diagnosis from our pediatrician.
It turned out that simply this is the obstruction of the lacrimal canal with subsequent inflammation because of this. This disease today affects many babies. And we are no exception. But first things first.
How to determine the obstruction of the lacrimal canal
From birth, our eyes were constantly sour. In the morning we could not even open them, because they were completely stuck together from pus. At first we had such a problem on one eye, then it appeared on the other.
The pediatrician gave us two reasons for such symptoms – inflammation or dacryocystitis. We were prescribed treatment in the form of a course of droplets in the eye, plus rubbing chamomile with the infusion. After treatment, the situation improved a little – in one eye everything was gone, but the second one didn't want to give up.
Then we went to the optometrist to the clinic. We already had tears that constantly stood in the sore eye. And then the oculist said that after all we have 100% obstruction of the lacrimal canal and we need to do a small operation. Well, in the end he appointed new droplets. And here, if they do not help, they will send us to soundings.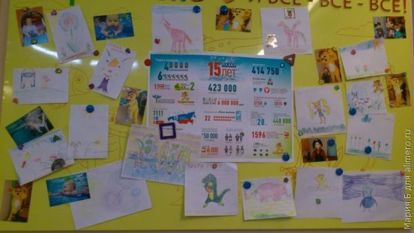 We again underwent a course of treatment, we did not receive any results I had been reading fears about this sensing. Allegedly, babies are taken away from the mother for a few minutes, they clean the canal, and then they give it back. Moreover, different kids in different ways carry this procedure. Someone shouts to hysterics, someone is more or less calm. And the doctors themselves say that sounding is not the first time can help.
In addition, up to 6 months of doing this small operation under local anesthesia. The older the child, the greater the likelihood of general anesthesia.
I really did not want to subject my daughter to such trials. I did everything to make the eye go by itself. I also decided to go to a paid children's clinic.
By that time, we were already 4 months old, and something had to be urgently addressed. Either now, sensing with local anesthesia, or later with general anesthesia, which I did not want at all. Plus, the children, the older, the worse they react to doctors and any interventions. I saw it in my baby, which we just tortured with her eye.
Surprisingly, we were advised to just do a massage of the tear duct. No drops, pills, drugs. Well, except for the infusion of chamomile, which we used since birth. They showed me how to do the massage correctly and told me to come after 10 days.
I constantly massaged my daughter's eyes – quietly with a finger along the tear channel along the bridge of the nose. On the day we did it several times. Of course, she resisted, but there was no choice.
Fortunately, we were able to break through the film! It took a lot of effort and patience. And most importantly, I was very surprised that before that no doctor had taught us how to do this massage! Perhaps we would have dealt with our problem long ago!
Now we have clean eyes, and we have forgotten about the obstruction of the lacrimal canal!
Mommy, did your kids have such a problem? What helped you in the end?