All kids love to jump, play and play. At these moments, you can teach him a lot, because they, like sponges, absorb information and repeat after their parents.
What are these games for?
Every child develops in its own way. One has the ability to learn letters and numbers quickly, and the other has the ability to unfold items in size and color. During the games with the child you can focus on the problem areas of the child's development, as well as determine his abilities.
In any case, for the child it is just a game, and our task is to determine the rules in it.
How do I entertain my son
The choice of games is huge now, but the boy is picky and plays only those that he likes.
1. The most favorite is pans and sudochki. We pull out all this utensils and we can pick up covers for hours, close and open them, put one into another. This contributes to the development of motor skills, logic and attention.
2. We put together. He manages the vacuum cleaner, turns it on and off. Broom and dustpan, too, he is engaged. After eating, he wipes the table and puts the dirty dishes in the sink. Very happy when I praise him for it. So develops the habit and skill to clean up after themselves, accuracy and coordination of movements.
3. We study the body. Clothespins I cling on all clothes, he removes a part himself, and a part does not notice. Then I say where it is, on which part of the body, and show it. It develops body flexibility and memorization of body parts.
4. We have a toy Turtle Karmanovna, she has 7 types of fasteners. Now we are learning to fasten and unfasten them. Thus, he quickly learns to dress and undress himself, as well as motor skills develop.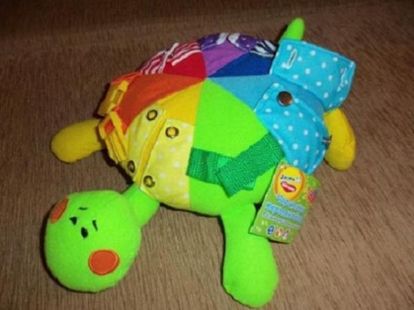 5. Games with toys. So that the son learned to play himself, without me, I am writing a fairy tale on the go. We sit down with a basket for toys and begin by turns to take out toys and compose a tale of her on the go. For example: There was a pyramid. But all her pieces were lost. She cries from this. She needs help and collect them (we sit and collect a pyramid).
Pyramid smiles and told his girlfriend typewriter about a good boy. The machine came to him and complained that she could not find the way to the refrigerator to eat and come back (we take the machine and go to the refrigerator, pretend to eat and return). So you can develop a lot of things, it is a versatile tale and depends only on the desire of the storyteller.
In general, a developing game for a baby can be invented on the go and out of the blue. Here is a chair when the child pushes him, then learns to feel his power and control it. There is nothing easier than asking a child to help you and put it in its place. The main thing is desire and fantasy.
Addictions
Every child has favorite games and unloved ones. My son does not like cubes. He throws them out as soon as I get them. But I do not force, but for some time I hide. The time will come and he will start to play and be interested in them.