The decision about infant swimming was made by me before the birth of the child. Fortunately, in our city there is a pool for babies, where classes for children and mothers start from 1 month.
Having a certain experience with the firstborn, I understood that preparatory measures are needed. These included hardening in the form of air baths, airing and gradually lowering the temperature of the water when bathing.
Classes in the pool
When we were one month old, we came to classes. In our pool, at first, the baby swims in a separate bath, which is larger than the home one. From about 5 months, the baby and mother are engaged in an individual floor bath, and when the child begins to walk in a large pool.
Classes are educational in nature. That is, we were taught the basics of infant massage and charging, depending on the age of the child, supporting the baby on the water, basic commands, emotional communication with the child and patience, patience and once again PATIENCE …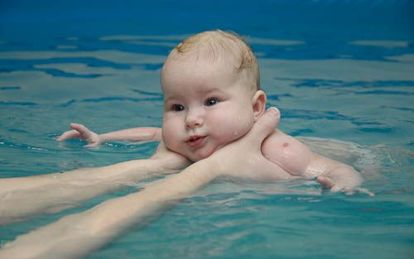 Here, for us, real training began with my son. Everything we were taught in the classroom, we fixed at home every day. Of course, my child has not yet floated independently, but I did not set such a goal.
However, by the year we achieved the following results. The child is able to hold his breath under water, willingly paddles with his hands, works with his feet, performs all the exercises, bathes in cool water and this does not entail any cold.
Baby swimming at home

I understand perfectly well that swimming pools are not available in all localities and are far from accessible to everyone, but in principle it is possible to practice with a baby in a home bathroom.
Here are some tips:
– Mandatory hardening, as described above, a gradual decrease in water temperature, by 1 degree per week. If the child is ill, the bathing temperature returns to 37 degrees, for about a week.
– Training in diving begins with watering, you water the face of the baby from the treatment. Before watering, give the command: Dive! and water for 1-2 seconds, so 3 times. Soon you will notice that after the team the baby closes his eyes, mouth, holds his breath. Be sure to praise him!
– A child aged 3-4 months is already hard to teach swimming in a regular bathroom, but you can diversify bathing by making a stick in the form of a double-sided oar, which is held securely at the edges of the bath. On this stick, he will be able to hang and plop legs.
– Pay special attention to bathing toys. The inflatable toys suspended from the ceiling will attract the attention of the kid while swimming on the back. Good in the bathroom balls, nets, leech, whistles. A great circle for swimming will be a great help in a home bath.