In infancy age it is very difficult to control the daily routine, you have to adjust to the baby's biological clock. But when he grows up, it is already easier to plan your day. Only recently, with my son, the normal mode of the day has more or less been established. Now my boy is 10 months old. During this time, as soon as our schedule has changed.

The mess of the day in the first months of the baby's life
The first month from the moment of birth, the son went to bed at about 23-00, and woke up at 5-00 and slept hours until 7-00. Honestly, it was hard for me to get up early in the morning. Throughout my pregnancy, I slept almost until lunchtime, and before giving birth, I generally slept for days. Experienced mommies told me that I should be glad that I was sleeping from 23-00 to 5-00, as some parents hardly sleep at night.
All day after such a short sleep, I felt like a sleepy fly. The mood was at zero. During the day, I could not sleep, as the baby slept only in his arms. In addition, the son was not atrocious, and absolutely did not allow him to go about his business, even trite to eat. In this rhythm we lived for about a month.
After the first month, the child began to wake up several times a night, crying, asking for food. In the evening he fell asleep at 22-00, woke up differently, he could at 7-00, could at 9-00. With this regime, I was even more difficult, I absolutely did not get enough sleep, during the day I also could not sleep or eat, nothing at all. I was on the verge of having to sleep and do my business at the weekend when my husband replaced me.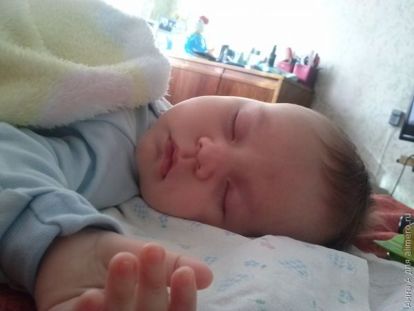 This difficult period lasted for a long time, up to five months, then it became easier and easier. I already got used to waking up and immediately falling asleep several times a night (to feed the baby), nap during the day in any position, eat on a stool near the crib, wash for a minute while the child admires the mobile, cook dinner for 20 minutes while playing with son, clean the entire apartment in half an hour while he sleeps, etc. As they say, you get used to everything.
Today, our daily routine is as follows: the rise is clearly at 8-30, then for about an hour the son plays, then asks again to sleep, so that the actual rise is 10-30. Then we go to the bath to wash, at 11-00 we have breakfast, after breakfast we go to play, I can do something around the house at this time (load the laundry, wash the dishes, get out).
At 12-00 we go to sleep again, we wake up around 14-00 and go to dinner, then we go to play. At 15-30 I go to cook dinner, at 16-00 we have afternoon tea, then we go for a walk until 18-00. Then we have dinner, and the son after a meal can take a nap for half an hour, at 21-00 we go swimming, at 21-30 my kitten goes to bed, and my mother goes to go about her business until late at night.
When the child is already sufficiently developed to entertain himself on his own, it is easier to plan the day, and the regime is built by itself. If before the birth of my son I did not have a clear timetable, now I live according to a strict schedule. The main plus is that it corresponds to the biorhythm of my child, as well as mine, which has a positive effect on our general condition, as well as on family relationships.