Today I want to touch on the topic of oil in the diet of our kids. Which is better to use, how and how much.
All my childhood I lived with my parents and grandmother on my mother's side. And I remember well that my grandmother cooked food with the addition of a large amount of oil. And she always told me that you wouldn't spoil the porridge with butter.
Now I think she was wrong, because A large amount of fat is very harmful for a child's body. It can disrupt the gallbladder and liver. Everywhere need a measure.
Let's see how to introduce a child with oil, and at what age.
These oils have the highest energy value, even in comparison with ghee and butter. The child must receive from 5-15 g per day, but always every day (this is the norm of a child at the age of 1 year).
Vegetable oils are rich in polyunsaturated fatty acids, and their lack leads to disruption of many processes in the body.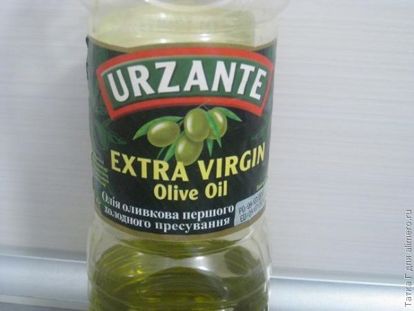 Olive oil is among the first in utility because it contains more monounsaturated acids that prevent the development of atherosclerosis.
For the first time we met with this product at the age of 6.5-7 months. I began to add a few drops in porridge or vegetables. Then I really liked the company Monini. Oil costs about 250-300 rubles (65-70 hryvnia) for 0.5 liters.
I bought cold pressed oil, because it contains a large amount of phospholipids, vitamins and polyunsaturated acids. Now I use Urzante oil, it is cheaper. It costs about 250-300 rubles per bottle (65-75 hryvnia). I buy a bottle with a capacity of 1 l, because I take for the whole family and often use it, filling them with fresh vegetable salads.
Refined sunflower oil
I started to give such oil somewhere from 1-1.5. I add it to soups. And also if sometimes I fry the patties, then I can use this butter. But remember that at an early age the amount of consumed vegetable oil should not exceed 5-15 grams per day.
I began to introduce my son to this butter at the age of 8.5 months, when porridge was already introduced in our diet. I bought oil in small packs, heated it in a water bath, and then poured it into jars and in the fridge. And before spilling you need to collect all the white foam on top. You can not imagine how much filth is allocated and going to the film, even in expensive butter. This oil I used up to 2 years.
When my son went into the garden, ordinary butter began to be given to him there, and I do not think of the best quality.
Now I take him the butter Voloshkov field, which consists of cow's milk cream. The shelf life at storage temperatures from 0 to minus 5 C is 35 days, from minus 6 to minus eleven C – 60 days. It is sold in food paper with a label of 500 g, and costs 130-170 rubles (35-40 hryvnia) per pack.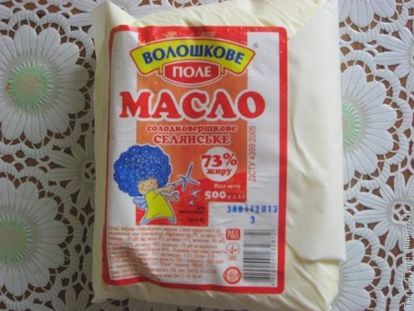 In general, butter is useful in high content of vitamin A. It can be given about 5 g per day. Vitamin A (in the respiratory tract system) increases resistance to infections (bronchi and lungs). A healthy skin, strengthening and growth of bones is also in most cases the merit of retinol (vitamin A).
Watch your baby's health. Do not feed baby fat free foods. Since thanks to plant and animal fats, children have healthy skin, normal functioning of internal organs and the brain.