If the site has girls with young children or expectant mothers, then this article is for you. I want to tell you about my experience in feeding. What products introduced, at what time and in what portions.
Our first lure
I introduced lure exactly six months. Although already three heard the cries of the older generation. They eagerly wanted to give the son to try juice or apple grated. I did not consider it necessary. At that time, we already had an unstable digestive tract in order to begin complementary feeding and even more so with JUICES. The son also gained great weight, from which it can be concluded that he had enough milk.
And at exactly 6 months and 1 day I decided to give him the first complementary foods.
We started feeding with vegetables. In general, there are two opinions, where to start: with vegetables or with cereals. If a child is gaining weight poorly, then you need to start with cereals, because They are more calories and nutritious. And if the baby you have plump and on the scales you see a good increase every month, then you fit the vegetables.
By the way, there is a third opinion – Dr. Komarovsky, who advises introducing complementary foods from dairy products, but his point of view was not completely clear to me and I did not consider it.
I started feeding on vegetables, more specifically with broccoli. I will say in advance that I bought all the vegetables in the form of canned puree, because the lure came in the winter, and I did not prepare beforehand (except for carrots and potatoes from my grandmother's vegetable garden).
I chose canned food according to the following principles:
1) Reviews. Before giving preference to one or another manufacturer, I read a lot of information for and against each trademark.
2) Price. But for some reason I could not trust the domestic manufacturer, the price of which banks was not great. I preferred the Gerber puree.
3) The composition of mashed potatoes. When I first came to the store and stopped at the counter with jars of different companies, I began to read the label. I was very surprised. For example, in some mashed cauliflower puree there were not only declared vegetables, but also rice or corn starch, salt, and vegetable oil. I chose the puree, which consisted only of vegetables and water.
Broccoli we did not go, the kid's cheeks reddened. Then we replaced cauliflower, then there was a zucchini and potatoes. At the first stage of vegetable foods, light vegetables are usually introduced (3-4 pieces).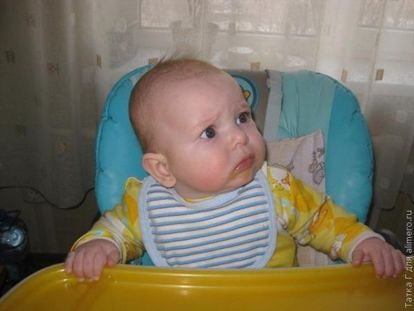 Introduce lure start with ¼- ½ tsp. This should be done in the morning to be able to track the reaction to a new product. If all is well, then the next day the amount is increased by 2 times. For a week, adjusted to the age norm.
Every day, you need to monitor the child's chair, examine the skin. You can not enter more than 1 product per week, as well as begin feeding with vegetable mixes. You give to try mashed potatoes, which include one vegetable.
By the same principle are introduced porridge, meat, dairy products. But you can give the child to try a mixture of already introduced products with a new one.
Lure for months
Kashi. They usually start with gluten-free cereals (corn, buckwheat and rice). We, if rice and buckwheat, have categorically refused corn. If your baby has problems with the chair, then keep in mind that buckwheat is weak and rice is strong.
Fruits. First we tried an apple. Next was prunes, pear and peach. You can change the order of input of feeding on vegetables and fruits. My friend did it to me, and as a result her daughter, having tasted delicious sweet fruits, refused to eat vegetables at all.
Meat. We started with a rabbit, then there were turkey, chicken, beef. I don't really trust canned meat, maybe because I had the opportunity to get a home-tested animal. I grind through a meat grinder 2 times and get minced meat, which I boil and add to mush or mashed potatoes.
If a child refuses meat during this period (many children do not like it at an early age), then a second group of vegetables (pumpkin, onions, carrots, cucumber) can be introduced instead.
Dairy products. I already wrote about this in the topic of yogurt. The first was bifivit, then yogurt, and then cottage cheese. But I introduced whole milk after one and a half years, since It is quite difficult for the child's digestive tract.
Cats that have gluten. This is oatmeal, barley, millet and wheat. Of these porridges then we liked oatmeal and millet. But now love millet. I gave these porridges not boxed (baby food), I really liked Nordic cereals.
I started giving yolk. We started with a small piece, and then there was a rate of 1 yolk 2-3 times a week. Only we took quail eggs, I still give only them. I use chicken only in pastries or meatballs, i.e. I do not give in pure form.
No need to strive to give as many products as possible. Try mono-mashed potatoes, combine with already proven products. And do not try to feed the child for a year, your goal is simply to introduce him to a new food.