I don't know how anyone has it, but during the rain, I begin to have bouts of activity. Before the weather changes, I sleep almost on the move, but when it pours outside, like a bucket, I begin to act. Immediately, my working capacity rises, and there is simply nowhere to put energy. Probably, my child inherited it from me.
Around me is a wall of rain
True, the son is active at any time of the year and in any weather. Only here is one thing when he frolics on the playground under the tender evening summer sun, and quite another when this unstoppable energy is heading straight into the deepest pool that you can find.
Especially for this purpose, the beloved child was bought new rubber shoes with a warm inside lining. The very thing on a warm sock. I keep quiet about myself – the second day on a towel warms up the only sneakers – I have nothing more to wear.
So – rubber galoshes are obviously not enough for my child. They were going to the garden, specially rolled up jeans, put a hooded jacket on him, and an umbrella in her hands. But where there. To the garden we got both wet. And okay, I'm just tired of jumping through endless puddles (walking along the doorway, leaving behind a wet footprint – my feet were soaked through), but my son got a real pleasure from such a walk.
Above all, he first asked if it was possible to walk in puddles in new shoes. In response, he received confirmation and an urgent request to walk, and not to rush around as if he were going to take off now. The child heeded, but … somehow it happened so that, apparently, calmly walking along a very shallow pool, he managed to wet the tucked jeans not only through, but also to a height above the knee.
By the way, the son went to the daddy (so that he had the ikalos) and now he is about ten meters tall – he is taller than all his gardeners.
And now, seeing this thing, I seriously begin to think about finding a children's spacesuit, because in another way I just cannot eat enough clean, dry things. I really followed him all the way and stopped attempts to drown not only in puddles, but also in dirt. And all for nothing.
She brought this child into the garden, handed it over to the teacher. Wet jeans were immediately sent to dry. True, the heating in the garden has not yet been turned on, and, having hung on the battery all day, the pants only dried out a little, by evening they were still quite wet. She came to the garden with others.
So, what am I all about … what to do? Indeed, the child behaves carefully (at least tries), but wet, like a frog. What to do?
Maybe really where children's suits are?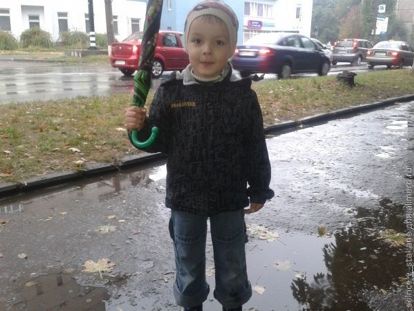 By the way, a children's rain coat is not an option either. My son manages to walk in him so that on him then the drops remain from the inside. I wonder how he does it.
And on the hands to wear – I'm sorry, I'm not a titan. It is hard for me to jump through the puddles when restless 20kg are spinning on my hands.