Even during pregnancy, I listened to classical music. She calmed me and helped me relax. The mood was depressed. Irritation, aggression, anger haunted me all nine months. So I was saved by music in the hope that my condition would not affect the child.
The daughter was surprisingly calm, and the first three months of life flew in a flash. Colic did not disturb her, she slept a lot and was not naughty. By 5 months the girl began to show character, demanded attention to herself more and more. Daytime sleep became intermittent and short-lived, sleeping only in her arms.
Music and sleep


I remembered my compilation of classical music and opened the playlist to play. I fed my daughter, she fell asleep in my arms. At the slightest rustle, her dream quickly ended, but I still ventured to put her in the crib. I managed it! A small lump snuffled in two holes. Sighing with relief, she went about her business.
Somewhere, an hour later decided to turn off the sound, I think, let him sleep in silence. Before I could move away from the computer, I heard a loud cry. My daughter woke up. It was her longest day sleep in the last month.
My child liked to sleep to music, so from time to time I turn on the player quietly and put my child to sleep. While the music is playing – sound and long lasting sleep.
Funny music


The daughter did not remain indifferent to fast melodies. In general, children react to music in a special way: one has only to hear cheerful notes, and the little ones start dancing. My daughter is no exception.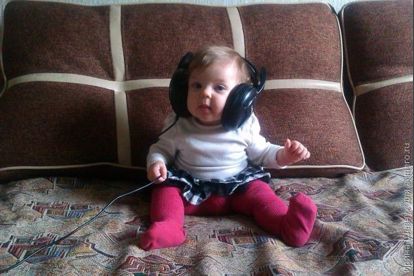 The first dance in her performance, we observed at 6 months. The eldest son watched a cartoon where the funny children's song of Tr-ta-ta sounded, we carry a cat with us. My daughter at that time was on her knees and trying to reach for the toy. Instead, she actively began to shake her booty, swinging back and forth with a wide toothless smile on her face. The song ended, the movement stopped. This lovely charm is already trying to dance at such an early age!
Children's songs


I made a selection of children's songs, they are well uplifted when my daughter cries. In the eyes of tears and a trace does not remain, and a radiant smile illuminates the face. He listens to songs performed by children more attentively and loves listening to silvery snowflakes. Without music, we do not have a single day, because it is so amusing to watch her clumsy movements that remotely resemble a dance.
How do your babies react to music?