Spring is finally here! The sun, heat – beauty! One is depressing: along with the spring warmth, we will have an annual pleasant bonus in the form of blood-sucking insects. And immediately a trip to nature and a trip to the country with a child become not so attractive …
In my topic I want to share my experience and try to systematize my knowledge in this area.
How to protect against mosquitoes?


What to do, you have to keep the defense against the annoying gluttons.
Ways:


1. Mechanical.

In the year when my son was born, there was some kind of unimaginable invasion of all kinds of these harmful insects. In the evening we got mosquitoes. And day and night, without breaks and weekends – small, annoying and terribly biting midges. Then the son was only three months old. They saved themselves with the help of nets on the windows and the stroller and tried to hide the body parts of the child under the clothes as much as possible.
2. Creams, ointments, sprays.

I attended to the purchase of these funds the following year, when my son was a year and three months old. It turned out that we tried several of them:
– JOHNSON'S® Baby
– Mosquitall
– Piknik
– OFF
Started with JOHNSON'S® Baby spray. What can I say about him: expensive (260 rubles), harmless and … ineffective.
Then I bought a Mosquitall spray. It seems to help, I liked it.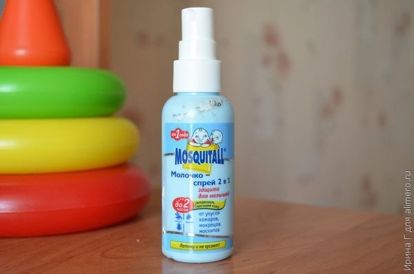 But we lost it somewhere (later found it).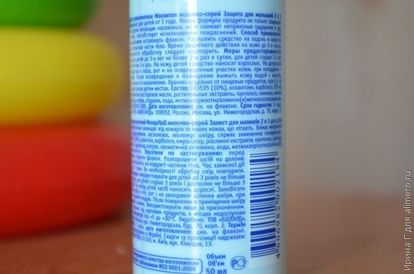 I had to run to the pharmacy again.
This time I chose Piknik – also spray.

My relatives praised his adult version for me. I found for a one year old child. It turned out to help too.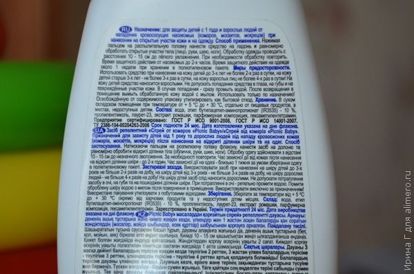 Then we got two kinds of OFF in the form of a cream – family and children.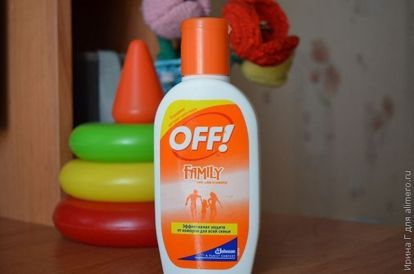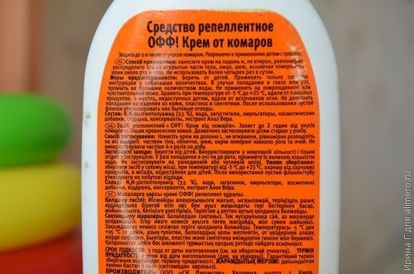 But it turned out that they are both intended for children from three years. They got rid of them themselves. The composition of both means the same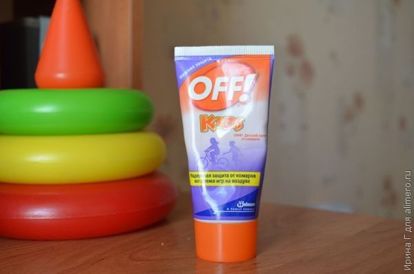 3. Fumigators and spirals.
The fumigator can be used, but I tried to minimize its use. Naturally, the plates were bought for children. The device should not work close to the child (I have with this strictly – the minimum meter). And I tried as much as possible to process the room for a while before bedtime.
Before going to bed I aired the room (of course, through the net).
The spiral with a child definitely can not be used.
What you need to know when choosing agents for protection against mosquitoes for application to the skin?


1. All of these agents are toxic. Diethyltoluamide and drug 3535– poisons. But they are the ones who are scary for mosquitoes. In order for the product to be safe for the child, the concentration of these substances should be around 7%. True to protect the child not only from mosquitoes, but also gadflies, funds based on these substances are not capable. Only acrep can protect against more blood-sucking insects, but I don't know if there are means for children based on it.
2. Spray is convenient, but it will inevitably fall into the lungs of a child. Therefore, to apply on the skin is still better ointment / cream.
3. While I was studying the question, I read somewhere that there are prolongators in children's tools. Such funds will last longer, which means less harm will enter the child. I did not find such a word on my purchases …
4. If the manufacturer promises that his tool will protect your child for more than 4 hours – do not believe. 4 hours is the maximum.
5. You can not shorten the time of action of the drug and dribble or amaze over and over again. So the concentration of poison increases.
What to do if the child is bitten
There are some folk remedies for mosquitoes. But for some reason I have little faith in their effectiveness. I remember making some kind of liquid based on cloves. Whether the carnation was not smelly, or the mosquitoes are not the same now, but the result was zero. But if you still could not protect your child from bites, I use folk remedies. I have two in my arsenal:
– strong tea brewing
– gruel from baking soda and water
I simply attach both of them with a cotton pad, smearing (not rubbing) the bite. You also need to take care that the child does not scratch himself, scratching his bitten skin. Therefore, the baby's nails should be neatly trimmed.
If a child has a strong reaction to bites, then you need to give him something anti-allergic. Or lubricate itching points with a special tool (I also had mosquitol).
Eh, it would be good to come up with some pill: I drank it and became inedible for mosquitoes for two weeks! But, it remains only to dream …
And how do you save your child from mosquito bites and black flies?