In one of my previous topics, I told you, girls, about those advantages that every mother can undoubtedly find when visiting with her baby the center of child development. And today I want to return to the events of six years ago and recall our developmental activities with my daughter.
Our first school
As I said earlier, the school, which Dasha and I enjoyed attending with pleasure, was located close to our house – this was perhaps the main criterion for her choice. Although not – she was also very popular among many mummies from our yard.
It was the first at that time in our city Montessori Center. My daughter was then one and a half years old, and taking into account our tender age, we were offered classes in a group I and my mother. Although, I have to say that kids remember mother there extremely rarely.
Basic principles of the development center
Freedom of choice, the availability of all the materials offered (and their assortment just struck me then!), An adult as an observer, a friendly and calm atmosphere – all this contributes to the development of children's independence as much as possible!
But the regular observance of one of the main rules of the center: Remove your work at the end of the lesson, of course, forms among children the necessary attitude to responsibility and order.

It is also noteworthy that at the same time in class one kid draws, the second sculpts, and the third plays musical instruments. Children have the freedom to choose and, having tried everything the child is interested in, the child will definitely stop at one thing, and from time to time will return to their favorite activity, improving and developing, thus, their revealed talent.
Drawing is what we need
As for me, the system is very efficient and effective. And most importantly, the choice that the kid makes on their own! My Dasha at that time stopped at drawing – we drew anything then, anywhere, and at anything, because it is very important not to interfere with the flight of fancy of an inspired little artist and not stop his attempts to create his next masterpiece.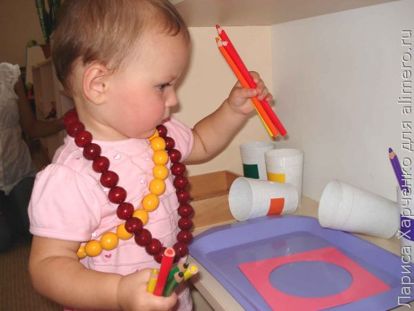 Everything, of course, is within reasonable limits, but it is also important that, looking at the calm teachers of the Montessori Center, I learned to respond adequately to the original performances of all my daughter's work and sincerely rejoice at her creative achievements, and not impose anything else on her.
It is also great that the mass of Montessori-developing ideas can be easily realized at home. We checked it in due time with the eldest daughter, and over time, Dasha, as an elder sister, proudly taught our Tanya with new and interesting skills! I will tell you about these ideas very soon.