Mom, I want to ride! – With such a phrase my dear blood took me aback one day during a spring walk and poked a finger at the uncles passing by on bicycles. The uncles drove on, and before me the question arose: what kind of transport should I choose for a 3-year-old child?
Bicycle
The bike was the most obvious choice, however, and the most controversial. Two-wheeled for such a baby is still too complex, and I don't like the three-wheeled one. I know a lot of stories when kids have not been able to transfer to two wheels over time.
Wood in the fire of my doubts was added by the fact that my baby could not figure out what kind of a strange beast – the pedals and how to turn them. And a visit to an orthopedist generally put a fat cross on this so familiar steel friend: the daughter was diagnosed with weakened ankle ligaments, that is, pedaling, even if she masters it, is too traumatic for her.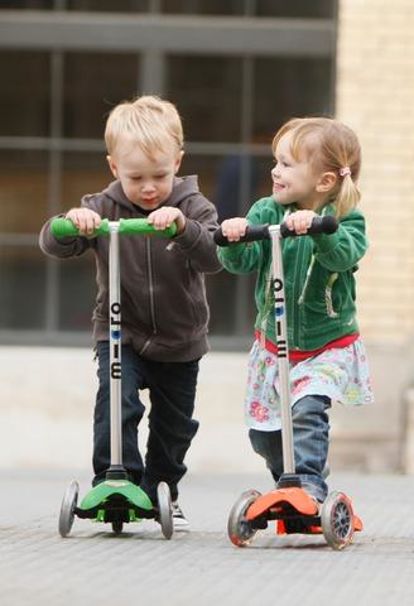 Scooter
Scooter was the second on my list of hypothetical purchases. However, bearing in mind the need for symmetric development of the muscles of the child, was rejected. Only one leg will receive development with this gift. After all, even we, adult women, carry our bags mainly on the right shoulder if we are right-handed. So the child – will be pushed only by the leading leg.
Scooter was rejected.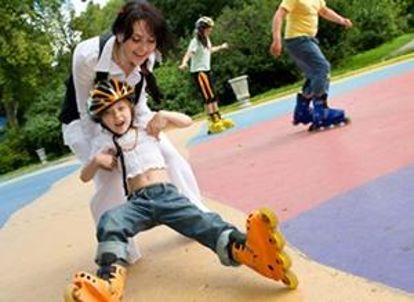 Videos
In one of the walks we saw scooters. My daughter really liked this idea, and I thought: what if? But the same orthopedist remained unmoved – no. Children at this age are not recommended to give an additional load of this kind on the still not strong bones. The verdict was harsh: not earlier than five years, and better after seven. And no cost-effective sliding rollers! It turns out that they do not provide proper center of gravity and fixation of the leg. That's it.
Eureka!
I was completely desperate and thought that I would have to upset the child, denying her the opportunity to ride with the wind … But then they told me about a strange little animal – the runaway. It is also called the bike ride, leg, ranbike, velosamokat and laufrad. I was stunned by the simplicity of solving my dilemma.
Oh yeah, I completely forgot to tell you what it is! After all, you, most likely, have not even seen this miracle yet! The runbike is a two-wheeled bicycle … without pedalek. Its charm lies in the fact that the child learns to keep balance, simultaneously developing his body evenly.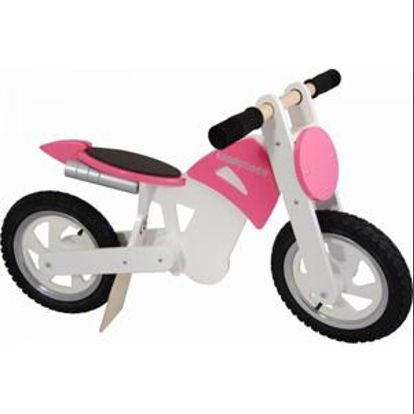 The kid pushes off with his feet, and then either keeps them on weight or puts on a special footboard. The most wonderful thing is that if a crumb begins to fall, it will be enough for him to simply stretch his legs intuitively – and that's all, there will be no fall! But this is very important, considering that the speed can be developed up to 20 km per hour!
Of course, you can unscrew the pedals and the extra wheels on a regular bicycle … But the running bikes have one more, no less important difference, namely, lightweight construction. By the way, thanks to her, it can be worn even on the shoulder, like a bag – it is enough to fasten the strap.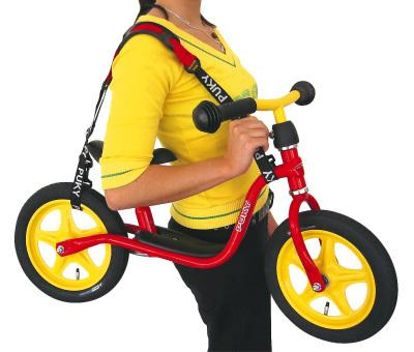 And yet, having already ordered this miracle, I still doubted very strongly: would it be interesting for my child? His first walk showed that the unrest was in vain. This neat little horse came to taste not only my daughter, but almost the entire yard! Who just did not ride on it: and kids 1.5-2 years old (for them we lowered the seat and the steering wheel to the bottom), and 5-year-old tomboy and even … teenagers.
But the most important test, perhaps, was one of the neighbors' fathers, who personally checked the reliability of the German device. 79 kilogram great withstood without consequences! And the neighbor now sighs that the runbikes are not issued for adults …