Today, there are so many ways to alleviate the condition of the child and the adult with various colds. Modern models of inhalers (ultrasonic and compressor) have replaced the steam one. After all, you must admit that it is difficult to make a small child breathe hot steam, and there is a risk of getting burned.
I was pushed to purchase an inhaler frequent catarrhal diseases of the son. My son was sick most of the autumn, replacing the bouquet: from a typical acute respiratory disease to bronchitis and sore throat. I already desperate to fight with all the ailments. The onset of the disease was mainly marked by a runny nose, which subsequently descended on the bronchi, which led to bronchitis. Fortunately, it did not come to obstructive or chronic bronchitis.
And the familiar doctor advised me to buy a nebulizer. A nebulizer is a device that converts liquid medicines into an aerosol. And although the nebulizer is not a very cheap pleasure, but in our case it was a reasonable purchase.
I do not want to say that the inhaler is a panacea for all diseases, but by applying it, you can remove all the symptoms of the disease. But the fact that with its help it is possible to alleviate the condition of the child and stop the development of complications – that's for sure! The main thing is to start from the early stages of the disease.
For example, if your child only has symptoms of acute respiratory infections, then you need to buy in the pharmacy ampoules of Interferon or Laferobion and dilute them in 4 ml of saline. Interferons increase the body's immune response and resistance to viral infection. It is necessary to do such inhalations 2-3 times a day, for 10 minutes each. Before and after inhalation, one should refrain from eating for an hour.
When my son has a cold, I take Borjomi or Polyana Kvasova mineral water for inhalation. Such inhalations help moisturize the mucous membranes or clear a clogged nose. For one inhalation also need 4 ml of mineral water. The number and duration of inhalation remain unchanged.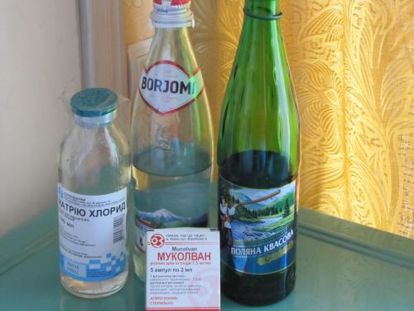 When I cough, I also inhale my baby, in addition to moisturizing the mucous membranes, they contribute to the dilution and elimination of sputum. With a strong cough, you can take the ampoules of Lasolvan or Mukolvan. There are many more special means for inhalers, but their use requires the advice of a doctor, so as not to harm. Without danger, you can use only mineral water and saline (sodium chloride).
In modern inhalers can not be filled with oil solutions and decoctions of herbs, otherwise the filter can clog, and this will already lead to breakage.
We bought a compressor inhaler, as in it, unlike the laser, you can use antibiotics. The laser nebulizer is certainly much quieter, but its price is higher. And I would not say that there is so much noise from our device.
I used to set my son inhaling cartoons, and he calmly endured this procedure. When he grew up a little, she began to explain why inhalation was necessary and to show on herself how great it was to make inhalation. He was flattered by his son to imitate adults, and he began to keep a mask for himself during the session, he did not try to escape anywhere. And in general he was very proud of himself.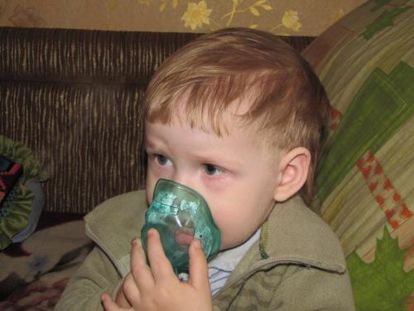 After buying an inhaler, all illnesses in my child began to wear a light form. ORZ I try to stop at the beginning, the runny nose does not flow into the prolonged phase and does not provoke a cough. I really hope that I do not need to use the nebulizer often. But, of course, this is a very useful invention, since little children still get sick very often.