Something recently all my topics about doctors and about diseases. Whether autumn inspired, or the current round of a huge number of doctors in a planned mode. Still, I again want to share with you information about the doctors with whom we had to meet, and how hard it is sometimes to make decisions.
First meeting with a neurologist
For the first half of the year, I decided to arrange patronage at home, so as not to carry my daughter once more into the children's polyclinic. I must say that the hospital to which we were attached is in a very inconvenient place – you have to stomp for about 15 minutes from a public transport stop! That is clearly taken care of moms! After one such visit, I realized – in the near future I do not want to be a frequent guest here.
But not about that. In the first month of life from the clinic a doctor came to us – a neurologist. Honestly, he didn't please me — he taught a bunch of diagnoses, starting with dysplasia, marble skin, hyper-irritability and ending with names that I'm even afraid to say out loud. My natural reaction is horror! What to do, why everything is so! The doctor prescribed us just a ton of medicine, right up to the injections of such a baby.
I rushed to the pharmacy to buy everything to start treatment. They were very surprised that a month-old baby was prescribed injections. Plus, in my head constantly spun – on the basis of what my daughter was put on hyper-excitability!
She was on the contrary calm as a boa constrictor. Many of my relatives even asked me if she could cry, because the girl was incredibly calm.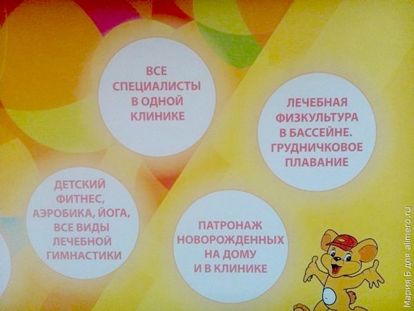 And I decided not to poison the child until chemistry and check such terrible diagnoses with another doctor. In just a few days I found a new specialist and with trembling hands we went to her.
She carefully looked at my daughter and said that apart from a small tone and marble skin she did not see any violations. Imagine! And when I asked about other diagnoses made to us, about prescribed treatment, I was told that now there is no need for it at all. The tone can be removed with a massage, and the marble skin will pass with age.
In general, I was completely confused – on the one hand, for joy, on the other, for not understanding! As so, I could trust the first doctor and hunt my baby chemistry! And it is absolutely in vain!
But the funny thing was in a month! By the time we did a course of massage, we removed the tone and generally lived beautifully. As part of the patronage program, the first neurologist came to us again, who instructed us a lot of diagnoses. She looked at her daughter and said – you are fine! Well done that a course of drugs drank through. And we did not drink! So here – what a wonderful self-healing?
My rule today!
Now I took the rule: measure seven times – cut once. When my daughter has any suspicions of sores, I consult with several doctors. And then you talk to a doctor, who decides to stuff it with medicines, and then you will regret your whole life that you have not been reinsured. And I need confidence that I am doing everything right and will not harm my daughter!
Mommies, how do you make decisions about treating your babies? Do you have one proven specialist, or do you also prefer to consult several?