Two days ago, my husband arrived earlier from work and we went with our eight-month-old daughter to make an evening walk.
I love to walk with my husband. He has a wonderful sense of humor and we constantly giggle. Before the appearance of the baby, our buns were often accompanied by drinking a bottle of beer.
And this combination of light intoxicating dizziness and sparkling humor eats into memory as one of the happiest moments of life. And, of course, I want to repeat it again and again.
Restrictions and norms
Being pregnant and then for another six months, after giving birth to a child, I could not afford to relieve tension in this way, but after 6 months of conscientious breastfeeding and with the partial transition of the child to adult food, I began to allow myself a glass of wine or a glass of beer 1-2 times a week.
Moreover, summer has come, the warm time with long light days has replaced the sad dullness of the streets, and the outings on the nature for picnics have become a worthy replacement for the boring home get-togethers.
So the day before yesterday evening, I really wanted to plunge into those carefree times of light, intoxicating humor.
Srahi and torment
But I am a mother with a small child, is it possible – it flashed through my head with the voice of some adult and strict woman. Maybe not worth it? And here I clearly felt how I was overcome by melancholy and despair.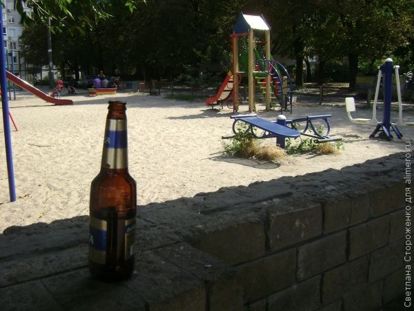 I spend all day with the baby. All 24 hours a day I have to be attentive, focused, alert and active. And how you want in the evening to take off the shackles of constant control and relax.
And I decided to drink beer after all. We bought a bottle of beer, a couple of pieces of dried fish and went for a walk in the private sector, so as not to embarrass other moms in our yard, giving them an obscene example. And I eagerly pounced on my trophy.
Conscience does not sleep
That evening, many grandmothers decided to walk along our paths and I often caught myself thinking that my frivolous behavior was to be condemned on their part.
I used to often condemn mummies sitting with beer near the playground, while their children are crawling in the sandbox with their peers. Oh, that something, but drinking alcohol in front of children seemed to me the height of recklessness.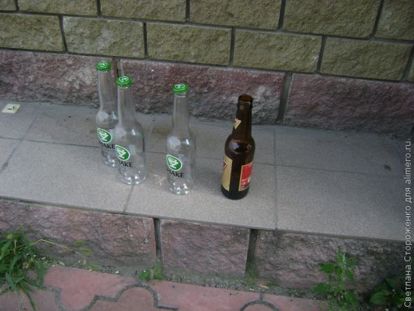 What i think now


This story is certainly not about the benefits of drinking alcohol during a walk with a child. Still, coordination and control is significantly reduced after drinking it. This story is about a condemnation that I could allow myself until I found myself in such a situation.
That you should not judge others without having been in their skin, or as someone very well said: Before you condemn someone, take his shoes and walk his way, try his tears, feel his pain, come across everyone a stone that he stumbled over, and only after that say that you know how to live correctly.
Do you judge young moms with beer? And how do you relieve stress at the end of the day or week?