When we speak muscle tone, as a rule, we mean other concepts – hypertonus or hypotonia. After all, just the tone is not a deviation and accompanies the person (and not only him) all his life, contributing to the movement.
In this topic, I would like to highlight these two concepts, as well as note the features in the massage for each of them.
Hypertonus

Very often, the children's pediatrician, who comes to visit the baby immediately after discharge, announces to her mother a terrible diagnosis: hypertonicity of the muscles. At least that was the case with my girlfriend, with a young and inexperienced mother shaking over her little bag.
Either the girlfriend has changed a lot in the face, or she is pinned to the doctor's wall, but he hastened to calm her down: the hypertonus of the muscles for babies is the norm. And it manifests itself mainly in the following: increased muscle tension, excessive nervousness of the baby and the so-called tiptoeing.
Up to three months it is called physiological and is not considered a deviation. Although, this is a controversial opinion and depends not only on the opinion of the doctor, but also on the degree of the baby's tone. Neurologists, when prescribing therapeutic massage, including from the tone, recommend using paraffin before the procedure.
For example, on the legs. This is called paraffin boots. At least in our recommendations it sounds like this. After the paraffin warms the muscles, the massage will be more effective and with greater relaxation for the muscles.
Techniques to help relax muscles
The main technique for this purpose is stroking, and it should be slow, soft and gentle.
Also, it is believed that acupressure is great for relaxing. Its essence is in pressing fingers of certain zones with simultaneous vibration. Honestly, no matter how hard I tried to master this technique, only our massage therapist coped with him for 5 days.
It is recommended that the position of the embryo with rocking or swinging on the ball.
All methods are good in the aggregate, and if you finish the procedure by swimming in warm water, we will achieve the maximum effect of relaxation.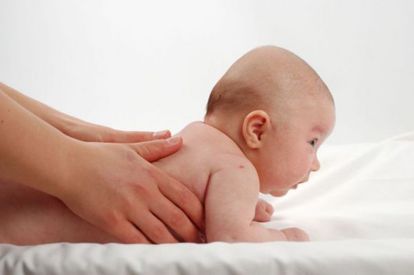 Hypotonus

It is characterized, on the contrary, by reduced muscle tone and, judging by statistics, it is less common than hypertonus. To combat this feature of the baby use toning techniques.
Techniques that are used to strengthen the muscles

For this, more energetic manipulations are used: rubbing and kneading, as well as percussion techniques.
The above is not a panacea, and is also unacceptable to use without consultation with a specialist who you trust. By the way, someone says that hypertonus for the further development of the baby is better than hypotonia, when the muscles, on the contrary, are too relaxed.