Our daughter was born healthy, so I didn't carry her especially for the doctors. Only according to the plan, all the prescribed specialists passed: an orthopedist, a neurologist, an oculist, a surgeon.
However, somewhere in half a year I noticed that her legs are a little muddy. I went to the reception in our children's clinic at the place of residence to the orthopedist.
The orthopedist looked at her and said that everything is fine, that I'll be wasting my time. Most of all I liked the phrase: Oh, yes, others are even worse! Everything will correct itself as it grows .. And, trusting the words of a specialist, I let this matter go to chance. As it turned out, it was in vain.
Now to a good specialist
When my daughter at 10 months went, I noticed that the legs continue to tangle, and the right clubfoot is much stronger than the left one. I was worried, I became interested in familiar moms, if their children had something like that.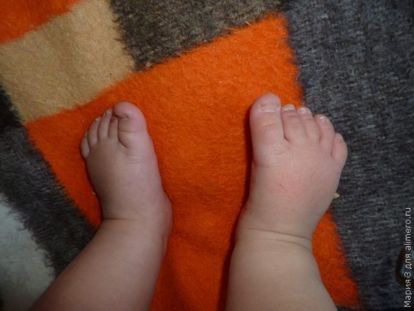 The daughter of one of my acquaintances in the first year of her life had big problems with her hip joints and she advised me to contact the best specialist in the city, to whom she has already led her child for the third year.
Record he had a month in advance. When we came to his appointment, he was very surprised that the district orthopedist did not take any measures in our case. He said that such a formation of the foot is a consequence of increased tone, and if we had taken any measures before, then there would be no such problem at all.
He appointed for three months every day, about every hour to do her foot massage.
Massage orthopedist said do two kinds:
1) Massaging the arch of the foot for the prevention of flatfoot, for about five minutes each leg several times a day.
2) Basic massage. It is necessary to fix the lower half of the foot in the hand between the thumb and forefinger. The other hand to give the foot a regular, straight shape. You need to hold strongly enough for about three minutes each foot. Repeat the massage every hour for about three minutes on each foot for three months.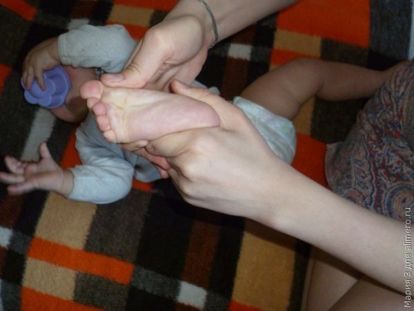 True, my daughter is not happy with my treatment! It is incredibly difficult for her to lie in one place for so much time. But nowhere to go, she endures.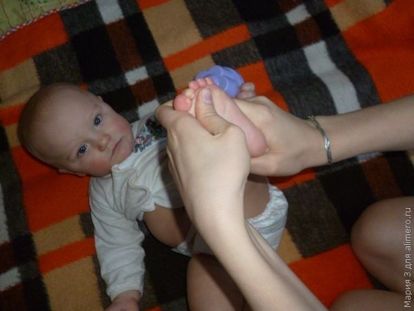 Now I am in the process of fixing the legs of my daughter. They said that if, after three months of treatment, the foot does not fall into place, we will make plastic slippers and wear it at night. But I hope to cope on my own.
Did your kids have a similar problem? How did you solve it?