My children, like any other, love gifts for any reason and without. And what a New Year without them. On the eve of the celebration, I try especially to try to make the holiday magical and full of surprises.
How to make and donate
I pay special attention to this issue. I buy my son and daughter a few gifts. According to one of them I traditionally put it under the tree. I hide small souvenirs in different unexpected places: in the pockets of jackets, in boots, in lockers for clothes, under the pillow I put not chocolate and not spicy.
The children then discover the gifts for several days, are very happy about it and praise the resourcefulness of Santa Claus.
I pack each gift in shiny paper, lay it out on the corners of the apartment, draw a cheerful map, and my children and I search for pirate treasures with it. On the map, I make funny tips.
When the children were smaller, I tied all the presents with tinsel, and they pulled them to her one by one. She also pulled the rope on which she hung the presents, and the children blindfolded tried to cut off the present with scissors.
What not to do
I think that it is not necessary to come with children to a large store and tell them to choose whatever they want. What is this magic. Yes, and no surprise will come. In addition, children will rush, worry, they will want one or the other.
Yes, and parents will eventually get bored. It turns out that the child chooses not what he dreamed during the whole year, and will be disappointed. It is better to be sensitive to children, listen carefully to what they want as a gift, to purchase and give.
About miracles and magic
I always invite Santa Claus with the Snow Maiden. And I prepare with the children for their arrival, learning songs and poems. They are always anxiously waiting for this day.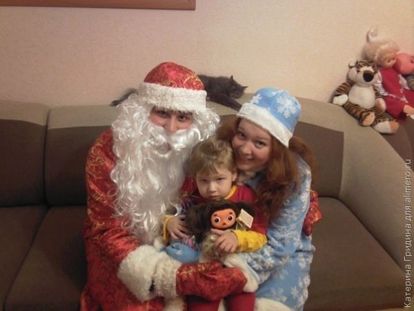 Be sure to jointly write letters to Santa Claus. Then together we drop in the mailbox. Then I write on behalf of Santa Claus the answers to them in large block letters and put them in our mailbox so that they themselves are convinced that the letter has arrived. When we read these letters with them, there is no limit to delight.
I leave large footprints on the balcony and hide it by the gift. I make the children themselves discover these traces.
Always carefully choose the time when to put gifts under the tree. I ask my neighbor to ring the doorbell and escape. The children open the door, and I explain to them that they have let in an invisible fairy with gifts that at this time end up under the tree.
Without imagination and invention, a joint creative celebration will not work. A gift can be any, as long as the children feel the atmosphere of a real, magical holiday, and remember the New Year for a long time.