When I was breastfeeding my baby, we didn't know what allergies were. Although our dad is still allergic! It all started with the introduction of complementary foods …
How we recognized allergies
At 6 months, I began to introduce my daughter food. First they ate the monopure – zucchini, cauliflower, pears, apples. They did everything according to the rules, did not hurry anywhere, constantly monitored the child's well-being on a new product.
When we were 9 months old, the pediatrician said that it was time to introduce dairy products. We were advised to start with children's classic curds. I bought a few jars of cottage cheese and gradually began to give my daughter.
The first time we ate half a spoon, then a spoon, then I gave a couple of spoons. I liked the cottage cheese very much, and I thought that everything would be fine, and we would eat dairy products for both cheeks. But three days after starting the entry of the curd, I began to observe the appearance of red specks in the child. Naturally, I stopped giving cottage cheese.
Despite the abolition of the new product, the spots began to appear further and further, and only on the body. The skin has become very dry, rough. It was obvious that the child is uncomfortable. And we immediately went to the doctor.
We were given an allergy, and then an assumption arose that it was on cow protein, because we did not introduce anything new. We decided with the doctor to carry out the treatment, and then still give a curd cake once again, but of a different brand. As the pediatrician told me, many children complain about Agusha, with whom we started.
We had a long treatment, almost a month. We drank Fenistil, cleaned the body with Enterosgel, bathed in the Emolium to soften the skin, smeared with a special cream against itching. Naturally, no change in nutrition. In general, we spent a lot of nerves. But to our joy, the daughter's skin has recovered, the signs of allergies have disappeared.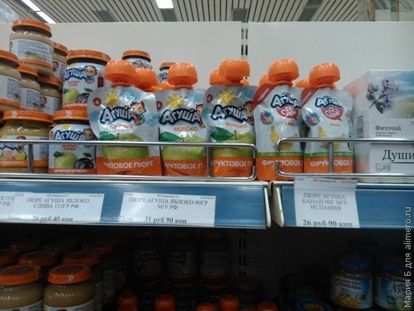 On the advice of the doctor, I again gave the baby half a teaspoon of curd, but of a different brand. The result is the same – an itchy speck appears. It became obvious that the reason was precisely dairy products. The diagnosis of allergy to milk protein.
Allergy Life
The doctors calmed me a little. They said that for many kids such a reaction is typical and with age everything goes away. The cause of allergy is not yet full maturity of the gastrointestinal tract. Accordingly, the ban included all products that contain cow protein.
We still can not eat curds, kefirchiki, cookies, pasta, white bread, butter. At 1.4 years old, I cooked chicken broth and put a little baby vermicelli. The reaction was not long in coming. Again, red spots on the body.
Unfortunately, we now have a very poor diet. Kashki on water, vegetables, fruits, chicken or turkey with vegetables and buckwheat. We eat soups without vermicelli, and even cookies cannot be chewed, although this is what the baby wants.
In the near future, we are waiting for tests from an allergist, who may prescribe a treatment to us. Or maybe everything will pass by itself with age, which I really hope for. But while we live in the framework … Every product I give to my daughter is checked for the presence of cow protein. And we always have on hand droplets Fenistil, Enterosgel, a healing skin cream. And I never know something is overlooked …
Mommy, and you are faced with an allergy to cow protein? How did you eat at the same time? And did you pass with age?