My daughter – with the nature of man. And from early childhood I tried in every possible way to demonstrate that everything will be just the way she wants.
Then we demanded cookies instead of teethers, and then did not want to eat soup. That scandal because I did not like the toy. Then they didn't want to go to the playpen and slept only with mom in bed. And when they started talking, it became quite interesting. I do not want a toy. I take her and she is immediately needed. I will not eat. I am taking food, from where I took my appetite … In general, military cunning and my mother's wisdom, but we slowly grew.
At some point I noticed that the daughter does not want to walk on her own, without support or support. Not afraid, but it does not want. Requires my mother's attention, so to speak. And we began to conduct experiments with it. At first, they tried to lure them to their favorite – food. So she went after her. Neaaa, docha turned out to be smarter: either crawling, or with support.
Then I tried to let her go in a place where there is no support nearby. But on all my attempts she squatted and jumped up, holding my hands. It was such an amusing dance in squatting that gave me one memory.
I once saw an advertisement for a music mat. It is clear that I immediately ran this look. And found! Yes, and complete with hanging toys, puskushkami.
When my child realized that this rug was beeping, and even with different voices, there was no limit to delight! We felt it while sitting and clapping our palms on it. And then – about a miracle! We got on all fours and a little later on our feet! Docha started to dance on it! Not without the help, by the way, snapping.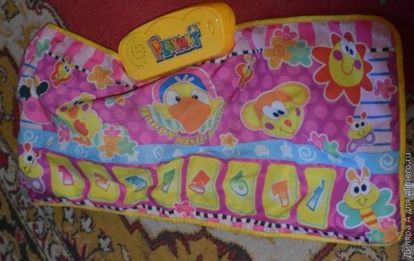 When the seller showed me this rug, she explained that toys should be hung in the playpen and the child would reach for them. I showed Masa one such pussy, and then I hung them all up the arena. Half on defense, and half on canopy. Of course, the snatches had their loops torn off, but then we had a steady interest in getting up on our own.
A little later, there was another problem. She had to walk a lot, but she didn't want to do that at all. And my beloved granddaughter came to the rescue again. We bought her (doll in the sense of) a stroller. Now Masyanya was unstoppable. We traversed the whole house, the yard and even rushed to the street – because the child must be walked away!
Now with the help of toys we solve the following problem – we teach the bear to read and write.