All moms want their babies to be healthy. We buy quality products, expensive clothes, safe toys. But almost do not pay attention to the hardening of the child. That's what I want to talk about today.
Why I thought about it
When my twins were born, my milk was gone from tiredness. I was so upset that the children needed to be transferred to artificial nutrition. And this, you will agree, is not mother's milk. Immunity weakens, vitamins are not those, the body becomes more sensitive to different types of diseases.
I myself was an artificial woman and I was sick all my childhood. This fate did not want their kids. My husband and I thought how to temper our children so that there are fewer diseases.
My husband is a walrus. He pours cold water. It gives its results. I, seeing in what form it is, also decided to involve children in water procedures.
But I was not a monster and could not immediately douse the child with ice water.
My scheme was different from instant dipping into ice water.
This is how it happened:
1. I started the water hardening for the summer. I also have summer children, just as they were one year old.
2. I took the baby bath and brought it into the yard. Got cold water and put it in the sun. The water warmed up under the rays, the kids went swimming. I couldn't get them out of the water. It so fascinated us that we began to carry out similar water procedures every day.
3. The next step was a garden hose. There the water will be colder. But we liked it even more than with a bath. Children began to pour cold water.
4. By the end of the first summer, we were already taking a cool shower right on the street.
I will say that in the warm autumn I still practiced water pouring, but I stopped with the cold. Scary has become.
But the next year everything was renewed. Only in the yard my husband and I installed a small inflatable pool and the kids swam there. Added water pistols and walking barefoot.
I make kids walk barefoot whenever possible.
Firstly, it is a good prevention of flat-footedness, and secondly, an excellent acupressure on the feet. And this and good blood circulation, and a massage of the internal organs. Children sleep well, they eat well.
To say that kids do not get sick at all, I can not. But less often – that's for sure. We can get sick in the midst of a flu epidemic, but we do not get sick with colds, rhinitis or sore throats.
I am very glad that by the example of my husband, I took up the tempering of children. When they become a little older, I will prolong the drenching season. My dream is to reach the hardening winter procedures. Let run barefoot in the snow.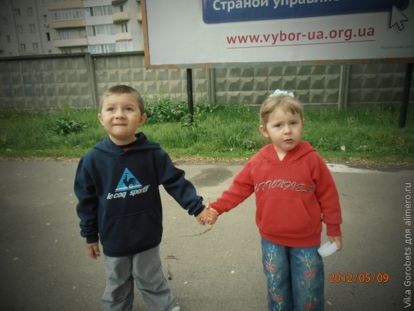 But I also want to say that not all children suffer from hypothermia. For many, this is a stress that they cannot cope with. So listen to your child and check his reaction. If everything is in order, go ahead! Be healthy!
Do you temper your children?