Every mother who feeds her baby can face a lactation crisis. It is extremely important in such a situation not to panic, but rather to remain calm and continue breastfeeding. I'll tell you how it was with me …
My little son has just turned one year old, all this time (to this day) he's breastfed. In fact, to breastfeed for such a long time was not part of my plans, but as it turned out, I was not competent in this matter, and it was not for me to decide.
The baby from the first days refused the pacifier, she flew further than I had seen. At the sight of the bottle, he began to get hysterical, but his title was indescribable delight. We used it at every opportunity to eat, sleep, calm down, etc. depending on the situation.
This happened about three months after delivery. I did not immediately understand what had happened, and I was a little scared, because I didn't know what to feed a half month old child who did not recognize the bottle and was used only to his chest.
All sorts of feed mixtures were bought, but the baby refused them. I began to panic, then my son's godmother came to the rescue. She is the only one of all my friends who breastfed her children and became my main adviser in this matter.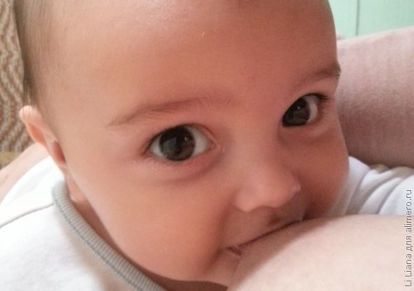 The most important thing was not to stop breastfeeding and to set aside panic, since stress also affects this matter. Therefore, first it was necessary to calm down and put the baby to the breast as often as possible. My son hung on me for days, at night he slept with me and even in a dream he sucked on a titus.
Fortunately, the situation improved every day, he ceased to be capricious. I continued to drink a lot of liquids, lactation tea, milk, ate walnuts and other products, which, according to experts and other moms, increase the quality and quantity of milk.
I also took a contrast shower for the breast, massaged it, and after 4 days the milk reappeared in the right quantity, even more.
Feed to last
Since then, I began to appreciate the fact that I can breastfeed and take it more seriously. Despite the fact that my son has long been able to chew and eat almost all the food, he does not refuse from the chest.
GH us helped us more than once during our illness, when the baby had a fever and was not in the mood to eat normal food.
Despite the fact that my son already has 6 teeth and 2 more on the way, he bites very painfully (and I honestly are tired), but I will tie it up with GW when he himself decides so …. Or bite them off … The second scenario is more likely 🙂