When my daughter was very young, every time she just fell asleep on the street. Therefore, I did not have to fantasize about what to take my baby for a walk.
But now we are sleeping less and less, we are no longer interested in lying in a wheelchair, and we don't always want to sit too. Especially when my daughter began to master the skills of walking legs. Then I had to connect the fantasy.
Our ideas for a walk
When my daughter has patience and she is ready to sit in a wheelchair, I roll her around the yard area. We consider everything that comes our way. By the way, recently we were given a children's bicycle, so when we do not plan to sleep on the street, we go to ride in it. I tell her everything, watch her reaction. I like to watch animals – pussies, dogs, birds. Communication with them is indescribable delight in us.
My little girl loves to study different plants. I tear her flowers and leaves, and with great pleasure she examines them, and then breaks it into small pieces – for the development of motility is also very useful.
After half an hour of riding in a wheelchair, the daughter gets bored of sitting in one place and she starts to crawl out to learn more about the world around her. Today, in this case, we have 2 entertainment options.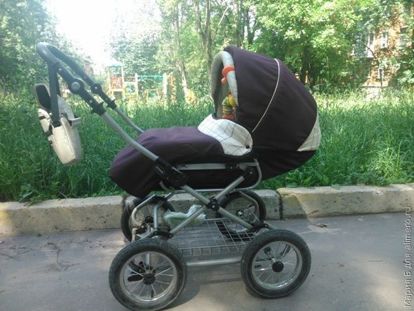 The first option is walking with the mother by the hand, we are not able to do so well on our own. By the way, despite the fact that my daughter is only a year old, it amazes me how she tries to imitate adults. And today, she is given an indescribable pleasure to manage the stroller independently – as a mother, as an adult. My daughter has been trying to walk with legs for quite a long time – apparently, the skill open in herself delights her.
The second option comes to help us when we get tired of walking by the handle. Here we run to the playground. We admire absolutely everything. From small children, we just love it and can watch and laugh at them for quite a long time.
We also like to swing on a swing very much – my daughter clings tightly with her hands and gets pleasure for about 15 minutes. Well, the hit of the summer season is, of course, a sandbox. When I allow my daughter to dig in the sand, I get the feeling that the whole world ceases to exist for her. But here you need to watch the baby in both eyes, because sticks, sand, dirty toys immediately climb into your mouth.
Ideas for the future
Of course, our list is still rather meager – we are just beginning to more actively explore the world around us. And I understand that soon I will need to come up with new ways of entertainment on walks.
Mommies, share how you entertain your baby while walking?