My Sabrinka is almost 1.5 years old. She learned to eat with a spoon only recently. Well, how to learn … While playing more and splashing than eating. Now I will share with you my experience in this matter.
When I remember how it all began … I sat down in a highchair, put a bib on it and put a plate in front of her, and then the show began! When I just introduced lure, she brushed off the spoon, even pushed her hands away, drenching everything around with carefully prepared snacks. Then I began to give her a spoon, but nothing good came of it.
Only if you suffer for a long time – something happens. Over time, everything began to turn out. I was not afraid to get dirty, dirty the kitchen, so I didn't postpone trying to learn until later. It helped me.
My kindergarten was also my salvation. He secured my efforts. In reality, the children are there like monkeys, they repeat everything one after another. After three weeks, my daughter began to eat herself. The most interesting thing is that now she does not even give her feed. Only myself. This is so funny.
My learning rules

1. Preparation. I noticed that my daughter eats more willingly if the whole family is complete. I move her chair to the kitchen table and we all eat together. The performances are not playing her. There is nothing to arrange from the usual dinner tent. In order not to wash a pile of clothes after each meal, I put a bib on my daughter, or eat soot in general in shorts or diapers. No clothes – no problem.
2. No hurry! In this case, no need to hurry. You do not need to stuff the food, to force to eat faster, and even more so to swear, if something does not work. Be patient. Remember, for a baby, food is both satisfying hunger, and playing, and communicating with your beloved mommy, so the process can be delayed.
3. Adjust to the child. If neighbor Vasya in 1.1 swallowed a spoon for both cheeks, and your little Lena 1.3 still didn't agree to keep a spoon, you don't need to sound the alarm. Remember, every child is special. Never children will do like everyone else.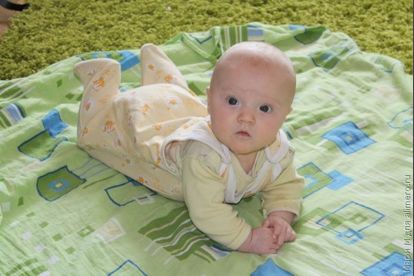 4. Help. If the baby something does not work, then you need to take his pen, put a spoon and send it to the mouth. I can assure you, for the nth time it will definitely turn out on his own. =)
5. Practice, practice and practice again. The more practice, show, direct, praise, the faster everything will turn out.
And how did you teach your kids to eat with a spoon? At what age did they start doing this on their own?