Not for me to tell you how important it is to think. To think independently and make decisions, not to depend on the opinions of others, to use your head. Such people are worth their weight in gold. I want my daughter to be one of such people. This will greatly facilitate her life and give excellent prospects. It will also protect the child from bad influence in the future. You can worry less that he will do something bad for the company.
Think for yourself

It is possible to teach a child to think for himself only if you allow him to do it. That's the whole secret. Of course, it is not easy. Sometimes you just want to help, to direct, but you need to keep yourself in hand, even if it doesn't work. Helping is needed only if the baby really does not know how to do it. And in general, it is not for nothing that there is a saying: If you suffer for a long time, something will work out.
Principle of autonomy

It must be followed in everything. In general, children tend to quickly sit on the neck. And we need this? Personally, I do not.
If the child asked a question, then you do not need to immediately give an answer to it, you need to wait a little. You can ask: What do you think? or ponder with him, asking leading questions.
Of course, our little ones will have failures, they will not always make the right decisions. But even in this case it is not necessary to stop them immediately. Better to ask the question: Why did you decide that? Why did that? This will help him rethink the situation, perhaps reconsider his decision. And in general, failure is also an experience.
This will not only provoke the baby to think independently, but also show that his opinion is very valuable, important for you and those around you. Especially if it is reasoned, justified by them.
How do i act

I do not wear my Sabrinka as a hen for an egg, even though she is only a little less than one and a half years old. Even if she has any difficulties, for example, she crawled under a highchair for feeding and cannot get out, I don't run headlong to her, but wait for her to get out herself.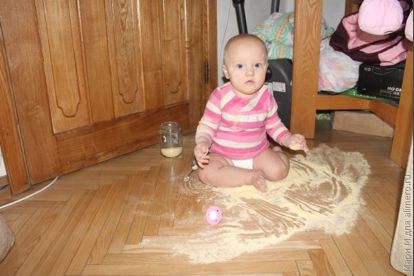 If she can't get the dice out of the box and is freaking out, I also wait until she does it herself and help as a last resort. Even what dress to wear, she chooses herself. I show her two, and she already decides.
She may not be aware of it yet, but by this I teach her to think and make decisions on her own.
It is our duty, as parents, to help a child develop independent thinking, bring up a thinking person who is able to analyze.
How do you teach your children to think independently?