I honestly do not even want to remember the first year of my daughter. During this time there was practically no toys that would interest her, she needed to be with me and certainly on my hands.
All this time I have been waiting for her to become interested in games and be at least for a while without my participation. Of course, to demand this from a child a year to no avail, but I tried to teach her to play with all his might.
A year and a half already, the principle begins to work out a little, but can you ?, and the child tries to respond as best she can. We developed motorics using large beads, and I often instigated. I wonder if you can sort them out by color and shape. If there are several children, then it is possible to try to organize competitions – who is faster.
Worked and the principle of the opposite. For example, I could accidentally get a sorter or a pyramid and say: No, we probably will not do it. In most cases, the child expresses protest and frantically demands to do exactly this, forbidden.
In the future, the child can be given the right of independent choice – we purposefully went to the store and chose simple puzzles, magnets and other toys. Having received the desired, the daughter had no choice but to play with them.
It is not always necessary to make purchases for games. You can come up with an interesting lesson with the help of scrap materials that exist in each apartment – making snowballs from paper, drawing with forks or palms, making handicrafts from cotton pads or disposable dishes.
Interesting ideas mass, it is important to simply set the activity vector for the child. In most cases my participation is required only at the beginning of the lesson, after which the daughter declares her desire to try her strength. So, instead of boring digging in the sandbox, you can suggest building a castle with a trench, which is best decorated with flowers, leaves or pebbles.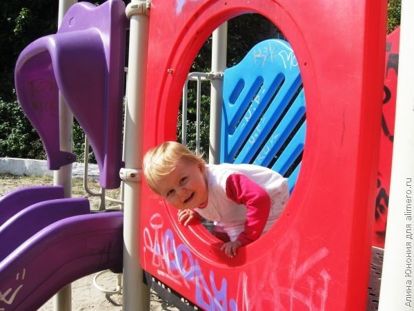 I have often noticed that children are interested in completely ordinary and unnecessary things in our opinion. Just yesterday, we went out into the street, and I just went to the trash bin to throw out the cardboard box, as my daughter stopped me. As a result, the children were busy for 40 minutes – cement from sand, stones and water was kneaded in this box.
We had a similar story with other boxes – one of the moms brought several large boxes to the site. With a flick of the wrist, they turned into spacesuits. The delight of children was no limit. As you can see, ideas lie on the surface, all you need is just a little imagination.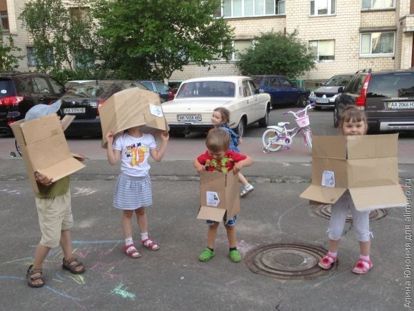 Even the usual chalk drawing can be varied. Instead of the bored classics, I draw a large caterpillar, in circles of which you can jump. And our children paint small paving stones in a race, because, they think it is magic crystals;)
What not to do
It is not enough to buy a toy or come up with a seemingly interesting occupation. It is often difficult for a child to deal with the principle of work independently. It is important to show how the modes are switched on the toy, how you can have fun with it, suggest interesting ideas for games.
It is not necessary to demand total independence from a small child. From personal experience, I know that my daughter learned to entertain herself, to come up with ideas for playing with dolls and other toys, only years old to four.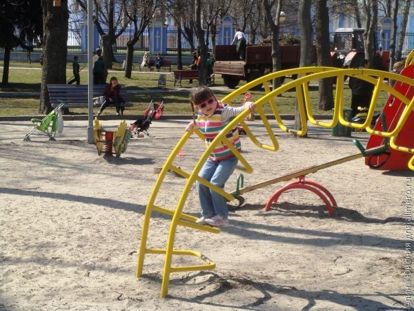 If you leave your baby alone with toys, make sure in advance that there is no danger in the access area – there are no sockets, medicines, detergents, etc. To do this, simply kneel down to the level of the eyes and hands of a child.
Try to avoid strict expressions. I am busy, Do not bother me, Go to dad, etc. I do not know about you, I am very ashamed of saying such words to a child. After all, sometimes just a few minutes of our attention is enough to satisfy a children's request.
After 2 years, when children gradually begin to show interest in their own kind, parental control is very important. Indeed, in most cases, kids are simply not able to resolve conflicts with the help of words, therefore, fights and tears often arise.
That is why it is important to be close to suggest that you can change or submit an idea for a compromise.
Now her daughter is 5 years old and in most cases she is able to come up with ideas for the games herself. And, oddly enough, now I want to play with her, but she refuses – she prefers to play with her peers … A similar situation with her hands – I used to simply howl from her constant presence on me, but now I have to beg to hold it for a minute;)