Crawl or walk immediately? What is better for the development of the baby? To each his own. And this is very true of the skills of each child. For example, my nephew did not crawl at all. Yes, and he learned to walk early. But my kids were crawling. A daughter – quite a bit, she preferred to move, holding on to the support. And my son was crawling for a long time, he was so comfortable.
I did not insist on my kids crawling. But the basic skills still taught. Still, these exercises develop the muscular system and the vestibular apparatus. And yet, learning to move on all fours, the child learns to think. He begins to think about where to go and how to do it.
As soon as my kids learned turning skills, I tried to expand their playing area. From now on, the crib became only a place to rest, and we were going to play on the floor. Rather, on a warm blanket, which I laid on the Palace. I myself also sat side by side. And the child more fun, and I rest and happiness to watch the crumbs.
In the field of view of the child, I put a few of his favorite toys. At such a distance, he could only reach them by stretching well. As soon as he succeeded, the toys immediately moved away a little more. He also liked to push a bright ball, and then try to get it. Yes, at first they were just creeps. Oh, girls, he did it so ridiculously, in a humorous way or something.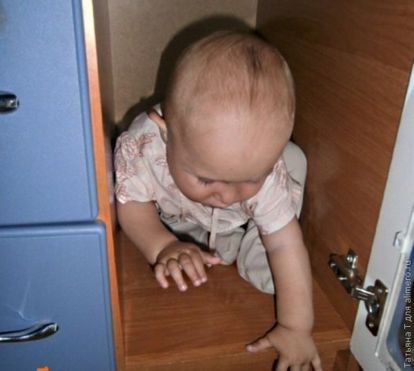 My daughter quickly mastered the skills of movement crawling. Already after about a week, staggering, she got on all fours and crawled about half a meter. Further more. And after a couple of days she easily managed to leave the perimeter of the playground. From now on, I began to vacuum the carpet more often and do its wet cleaning. Sometimes, twice a day. And where did these crumbs and small mote come from?
My little son stubbornly did not want to stand on his knees. On his stomach he crawled all over the blanket, and on all fours he was not aware of getting up. Seeing such a turn of events, I decided to tell the crumbs how to get on all fours. I slightly lifted one hand over his tummy, and the second – held his heels so that he could hold them against my palm.
Also, I sat on the floor, stretched my legs and laid my son down on them with a tummy down. At the same time, his knees and palms rested against the floor. In this position, I gently rocked the baby back and forth. My efforts nevertheless were crowned with success, the baby tried to crawl and he liked it. My kids learned to walk only after a year … But, about this next time.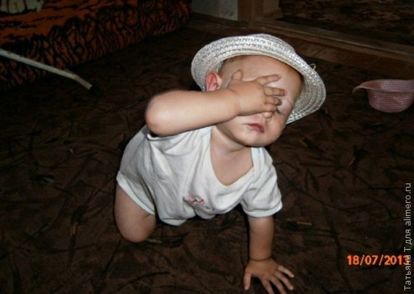 And your kids crawled? Do you think this skill is important?