The book is a good helper in the development of children's imaginative thinking and intellectual abilities. Also with its help you can teach a child such concepts as kindness, politeness, honesty, friendship, noble deeds.
I first started reading books to my son when he was 1-2 months old. These were short poems and songs. He still did not understand the meaning of the words, but he was well aware of his mood. If I smiled and spoke softly, he smiled too, and if I spoke seriously, he frowned. Therefore, the first emotions we have appeared thanks to the book.
Then I bought books that were intended for children from two months, there were colorful animals. He really liked it when I showed some pictures, and then he was nibbling on his own favorites.


Meet in 6-12 months
At this age, we had books that were made of rustling materials, and those that make sounds. Children begin to study various materials, which is well developed tactile sensations, as well as all sorts of suckers and buttons, developing fine motor skills.
The books were quickly bored by the son, so we had a lot of them, but we only got 2-3 pieces, and the others hid them, gradually showing him something new.
Now in stores, the range of books is huge. We had one talking book, there were sounds of predatory and domestic animals, as well as transport and insects. If you choose books-toys, then you should pay attention to the quality of the material from which they are made, as well as the possibility of washing the product.
Meet in 1-2 years
At this time, children already have the first words and favorite books. We had a lot of books about animals, some about carnivores, others about those who live in the zoo, and still others about pets. At the same age, we had pets, so in one of the books he flipped through all the pages and searched for a turkey, in another – a tiger, and in the third – a wolf. Thanks to the love of these animals, he quickly remembered what they eat, where their basic habits live.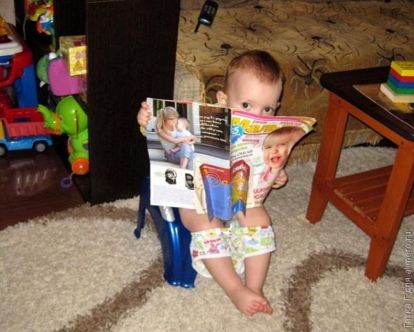 In a year we began to read the first tales about a cone and turnip. It seems to me that the book should interest the little man, she must have beautiful, bright and colorful illustrations. And also volume books are very good at this age. While reading a fairy tale, the son loved to open and close the door, look in the lockers or look for a small animal in the hollow of a tree.
Meet in 2-3 years
For a whole year, we like not just reading a book, but when I also show it in action. Suppose aybolit flies on an airplane or a bear goes through the forest and collects cones. Children at this age are such repetitions, so after a few days, I began to notice that he was waiting for the moment in the book and began to copy the plane or the clumsy bear.
Now the book, which we previously could read in 5-7 minutes, is read for about half an hour. After each illustration or unfamiliar word, questions are raised. Mom, what does the belly mean ?, Mom, and what is the mouth ?, Mom, why does the hare have such long ears painted ?.
We have several favorite books that we are ready to listen to and re-read all the time. I suggest others, but he very rarely agrees to listen to something new. One trick works, you do not want to listen, then your kitty will listen with pleasure to me. In general, with his favorite books we play this game, I read the beginning of the line, and he continues. We remember so many poems.


findings
To the child wanted to read books, you need to interest him. The question is not even what to read, but how to read. If the mother will serve the duty, I quickly read and go to get out, then do not expect that in the future the child will show love for the book. You have to interest the baby, and it is not so difficult.