I think that I'm not the only one who regularly wonders how to raise your child so that he knows how to set clear goals and achieve them. And also do not hang the nose when faced with difficulties. About my thoughts and observations of successful people is my today's topic.
I think it would be quite logical to begin our thoughts with a question, but what is success for each of us? For me, this is achieving my goals and getting what I want, whatever it is.
From my own experience, I can say that I have a sense of purpose, but the ability to set goals and move steadily towards them sometimes fails me.
Monitoring successful people
At my last workplace, the founders of the corporation were two young men. They were 30 years old with a small tail, when they were just starting work on their project. After 5 years, they collected fatty layers of cream.
More precisely, they started collecting them before, I came to work in their structure in the 5th year of the business. Moreover, one of them. And there were about a dozen of them.
Of course, they are men. In their life there were no maternity leaves, despite the presence of children. But how much do I know men who have been working as middle managers for dozens of years?
What is the difference between my founders, their way of life and thoughts from my many familiar men? The first thing that immediately caught my eye was that they both turned out to be Jews by nationality.
I don't know if this is a regularity, but I often encounter Jews who earn good money for their work. Probably, this is just a coincidence, but it became very interesting for me to find out what is the difference between raising Jewish and Slavic children.
And why, according to my founders, for them problems that can be solved with money are just expenses. And for many Slavic men – this is a great excuse to sleep.
Peculiarities of raising children in Jewish families
As if by magic, a program about raising children in a Jewish family came to my eyes. A plump woman, a mother of seven children, told the moderator how she was raising her offspring.
I was delighted with her story about how she forms a good self-perception in children. One of her methods was that by talking with friends on the phone, she begins to extol those qualities of her baby that she would like to cultivate in her. But it does this so that the baby hears a conversation about himself. For example, talking about him near his room.
The following method of education was that at all events the children were put on a stool and clapped their hands while he reads the verse. This, in the opinion of the Jewish mother, teaches the child not to be afraid of being a winner and sets him up that the world will sooner or later applaud him.
But really, I don't know how you are, but I'm terribly afraid to speak in public, lecture for a large audience and even sing karaoke in a cafe. Is this related to the fact that I received a negative experience of public speaking as a child? I do not know. But I do not think that the fear of speaking in front of other people may be innate.
It seems to me that this fear is about my fear to stand out from the crowd, to be different. It is for the prevention of such fear that verse reading to applause works.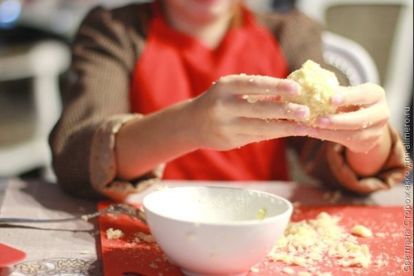 But let us return to the large Jewish mother and her peculiarities of raising children. As soon as anger and desire to raise her voice overflow, she goes into another room and stays there until she calms down herself.
Babe she calls only affectionately: the sun, sweetheart, etc. You will not hear any comments on the hands from the back or the clumsiness of the babies in their family.
Delving into my question
After this program, I began to take a little deeper interest in the features of the upbringing of Jewish children and came across three basic rules that, in the opinion of deeply religious Jews, give a good result:
1. The child must immediately set a high bar. To bring him up with the understanding that God has given him unique and tremendous abilities, therefore the demand from him is great.
2. Jewish parents should give the kid a scale of life priorities. To do this, one cannot often talk about money, demand fives from a child and slander about other people. All this can teach a child to cycle in money, career or gossip, which is bad for his future social life.
3. You cannot demand from children that they do something that you do not want to do yourself. In other words – behave with the child as you would like him to behave.
Information from third parties
My friend, having lived in Israel for several years, told me about all the spoiled children there. How hard it is to come to a cafe and sit in a quiet, relaxed atmosphere. It seems that little kids run around the tables and sit with their parents on the neck, in the truest sense of the word.
But, nevertheless, I would really like to attend courses on raising children in Jewish families. It is interesting for me to try to understand what exactly and how they put into small people, that they so successfully find their niche in life and become successful, rich and famous.
Do you know any secrets of raising successful children?